Top 10 Korean Restaurants in Amsterdam: Uncover Seoulful delights with stress-free parking
26-09-2023
Amsterdam is a city known for its rich culinary diversity, and if you're craving the bold and savoury flavours of Korean cuisine, you're in for a treat. From sizzling barbecue to crispy fried chicken, Amsterdam boasts a variety of top-notch Korean restaurants that will transport your taste buds to Seoul. To make your dining experience even more enjoyable, we've also got you covered with convenient parking solutions from Mobypark. So, let's dive into the world of Korean cuisine and discover the perfect spots to satisfy your cravings.
1. Miss Korea BBQ: Grilling Extravaganza and Beyond
Miss Korea BBQ, nestled in Amsterdam's De Pijp district, has charmed locals and tourists since 2013 with its cosy ambiance and all-you-can-eat Korean delights. From bulgogi (marinated beef) to savory galbi (marinated short ribs) and samgyeopsal (pork belly), each dish is cooked to perfection on your personal tabletop grill. Beyond Korean BBQ, indulge in Japanese sushi and grill specialties for a diverse dining experience. With industrial-chic decor and warm, inviting lighting, it's the ultimate backdrop for memorable meals with friends and family!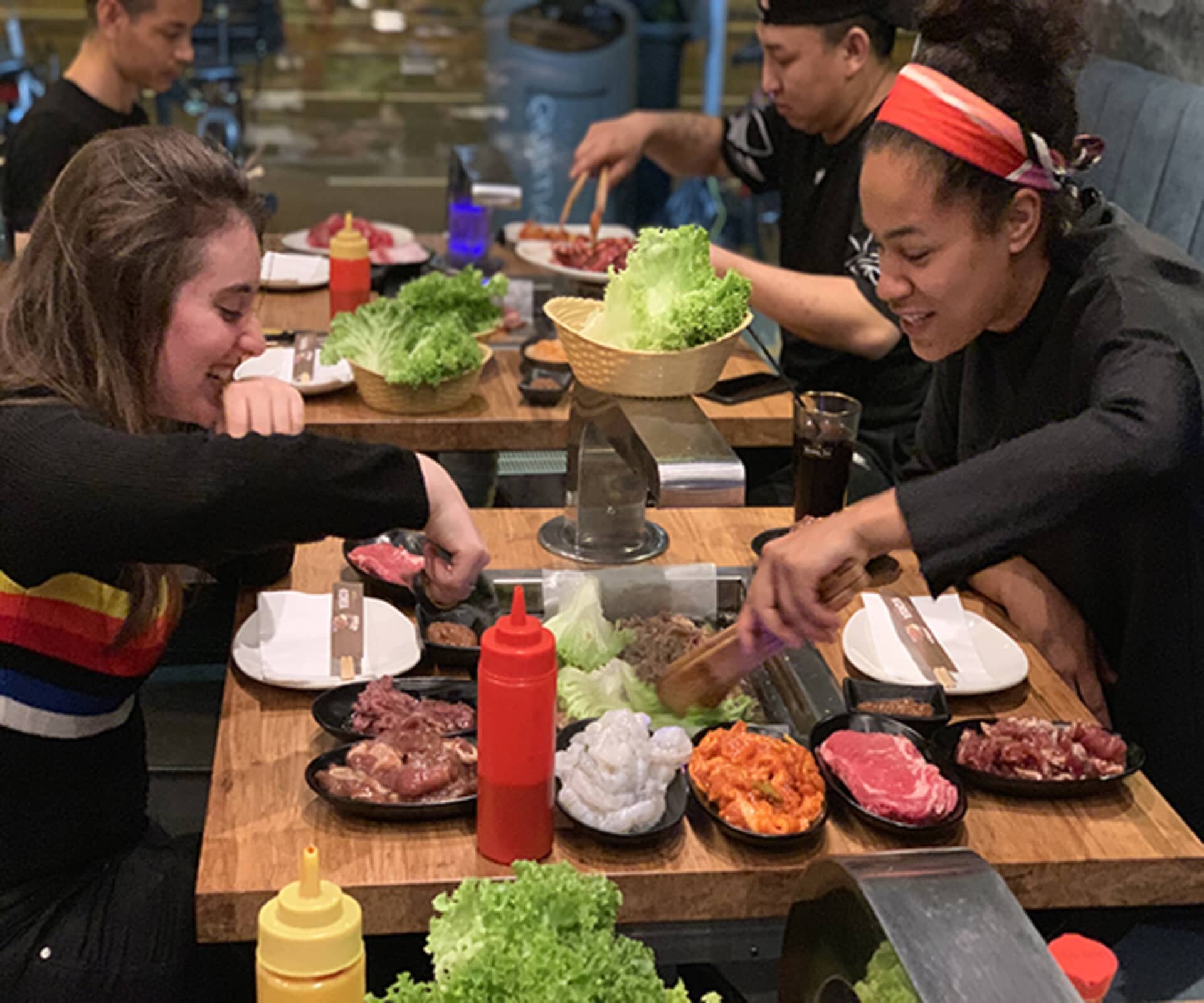 Source: Miss Korea BBQ
When it comes to parking in De Pijp, we all know what a hassle that is. With Mobypark, you can easily find a list of parking options in the area. Parking Garage De Pijp Amsterdam, for example, is just a 4-minute stroll away from the aromatic haven of Korean BBQ!
2. SOJU Bar: Crispy Bites and Spirited Delights
Discover the vibrant flavours of Korea at SOJU Bar, a haven for Korean fried chicken aficionados and soju enthusiasts. The staple of their menu is naturally the Korean fried chicken, with sauces of your own choosing such as garlic soy, spicy sweet, or honey butter. Pair your meal with a wide selection of soju, the quintessential Korean spirit, enjoyed neat, on the rocks, or in creative cocktails. On top of that, the Korean restaurant and bar presents a diverse array of Korean treats like kimchi, japchae and bibimbap. Dive into the lively Korean experience—delicious food, flowing drinks and a lively atmosphere—at SOJU Bar!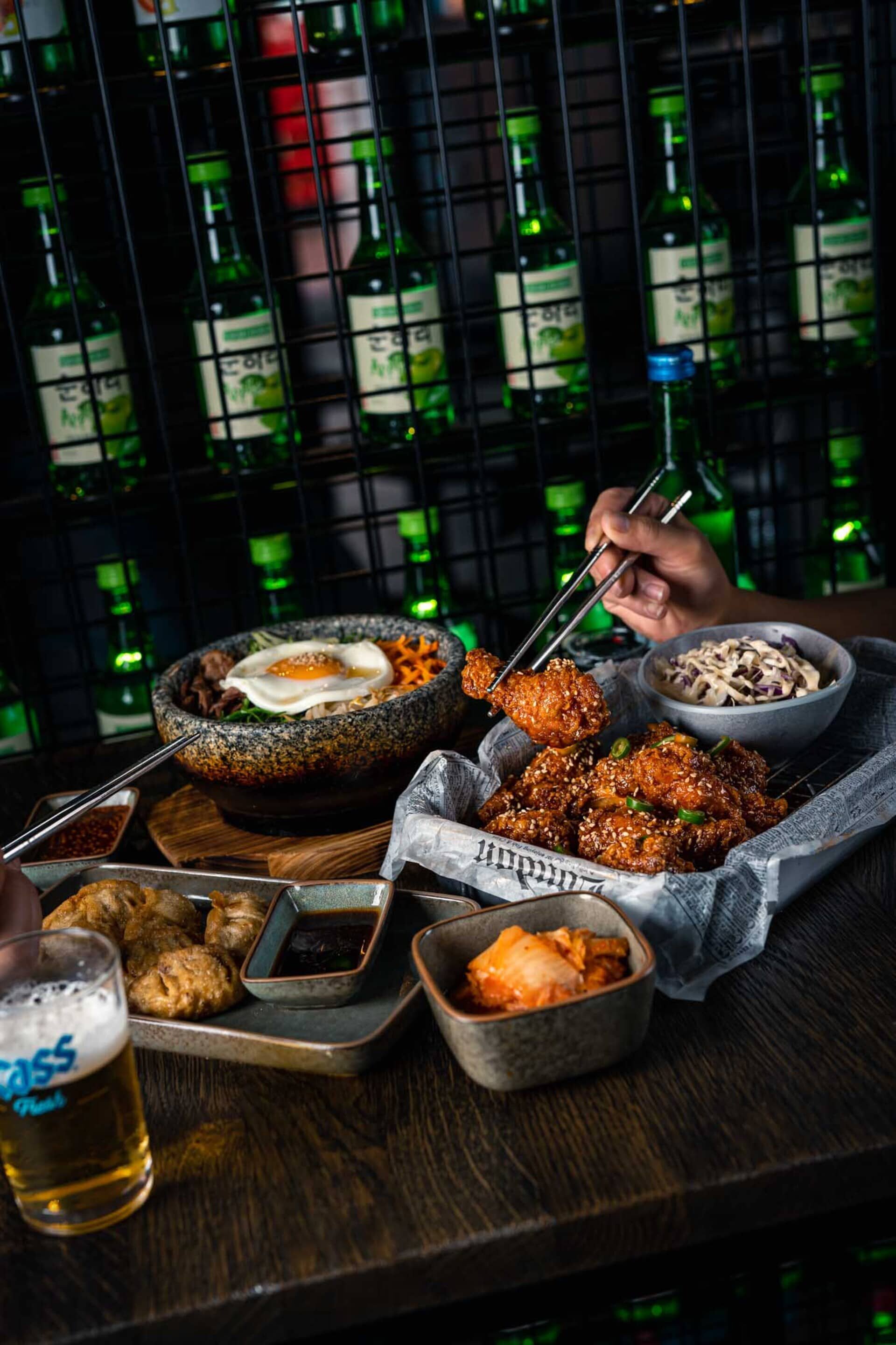 Source: SOJU Bar
Plus, you don't need to worry about parking in De Pijp anymore! Simply book a spot at Parking Garage De Pijp Amsterdam and take a 6-minute walk to the restaurant for a stress-free dining experience.
3. Seoul Sista: Grill 'n Groove Korean Fiesta
Located on the Reguliersdwarsstraat, a popular nightlife and dining area in the city centre of Amsterdam, Seoul Sista offers an all-you-can-eat Korean barbecue experience elevated by the unique dining concept featuring built-in grills on tables, allowing diners to cook their preferred meats and veggies to their liking. Enhancing the experience, Seoul Sista presents karaoke rooms for entertainment! Choose from a diverse array of Korean barbecue meats—beef, pork, chicken and seafood—alongside a selection of veggies, side dishes and desserts. If an authentic and delectable Korean barbecue experience in Amsterdam is what you seek, Seoul Sista is your go-to destination.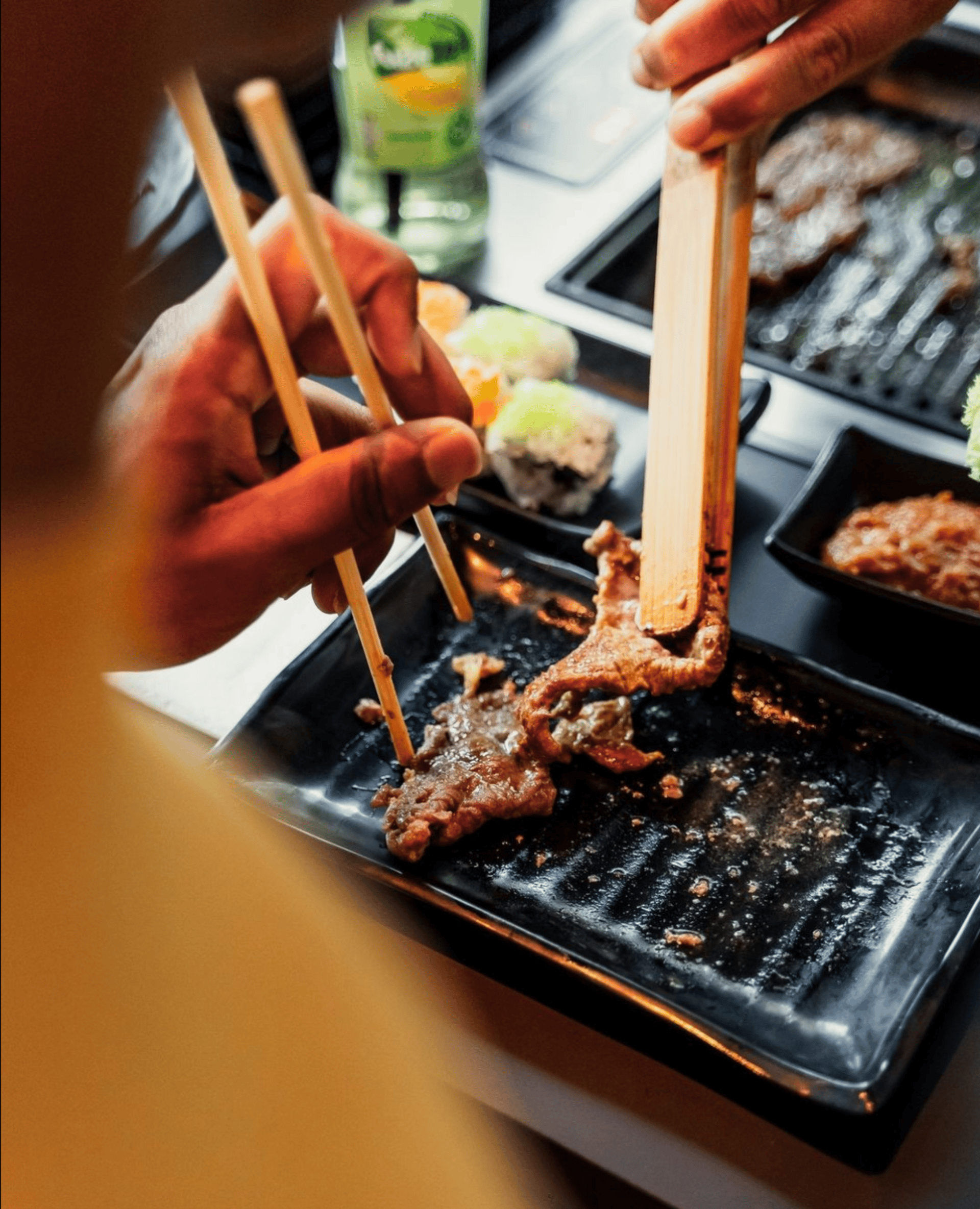 Source: Seoul Sista
When it comes to parking at the notable street Reguliersdwarsstraat near Koningsplein and Muntplein, Mobypark has you covered. Reserve your spot at Parking Kalverstraat Amsterdam and you're just a 3-minute walk from the Korean BBQ delights!
4. Restaurant Khan: A Family-Owned Korean Feast for Your Senses
For over 20 years, Restaurant Khan, the cherished family-owned Korean eatery has been dishing out heartwarming authentic Korean creations. From mouthwatering bulgogi and marinated galbi to stir-fried japchae and bibimbap, each dish exudes flavour and authenticity. Veggie lover? They've got your back with a lineup of fantastic vegetarian and vegan options. Fresh, top-notch ingredients form the essence of their culinary creations, resulting in generous, satisfying portions. Restaurant Khan's enduring family legacy, genuine Korean cuisine, diverse menu and warm hospitality set it apart as an ideal choice for an authentic Korean culinary adventure in Amsterdam.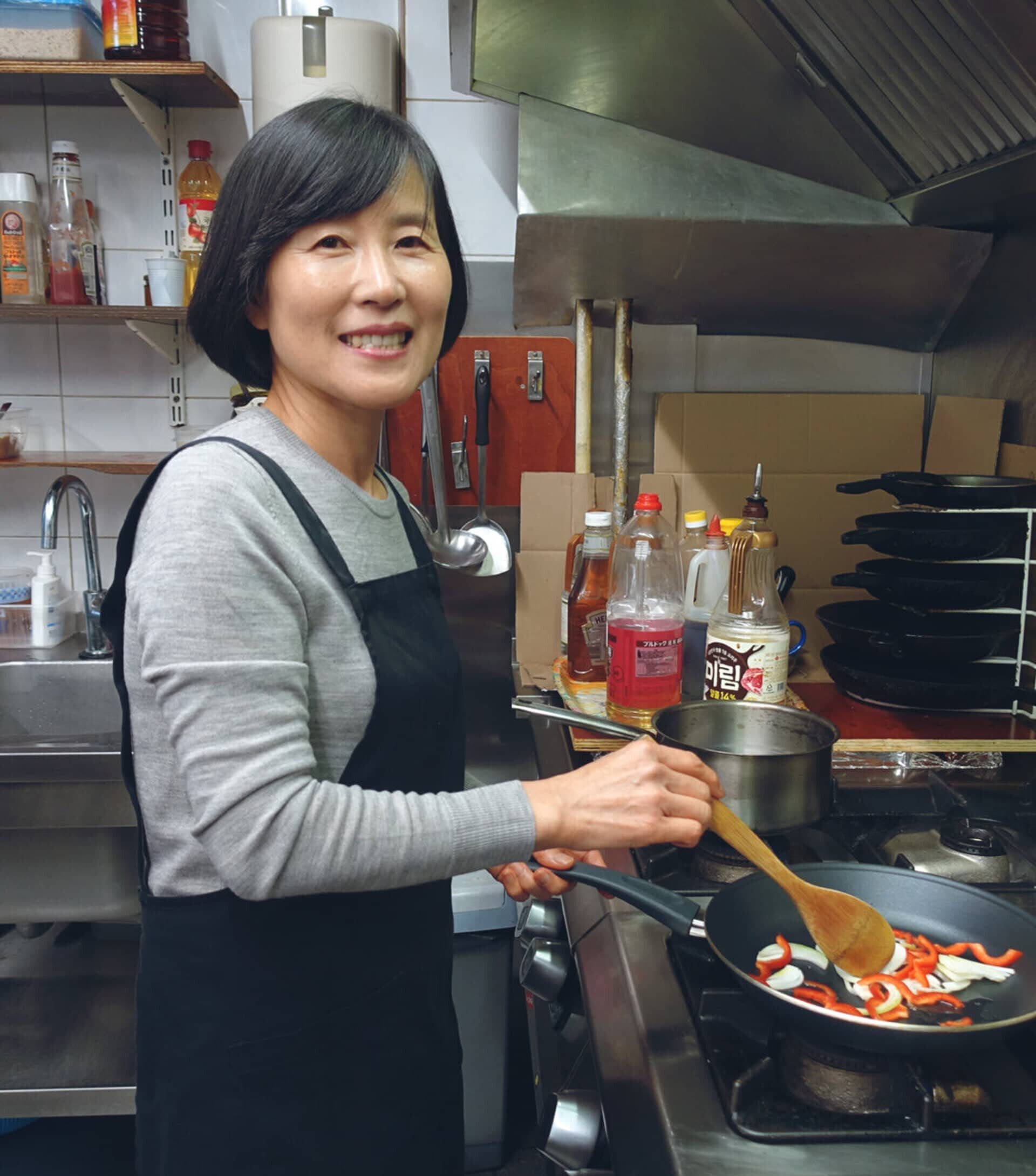 Source: Restaurant Khan
For an enjoyable dining experience at the beloved Korean eatery, don't forget to plan ahead and book a nearby parking spot!
5. Damso Korean Restaurant: A Cosy Nook for Authentic Korean Flavors
Located in the charming historic Oude Dorp neighborhood of Amstelveen, Netherlands, Damso Korean Restaurant offers an intimate and authentic Korean dining experience. This cosy nook is renowned for its authentic Korean cuisine, offering a delightful array of dishes like bibimbap, bulgogi and kimchi. Must-try delicacies include their flawlessly prepared fried chicken, spicy beef soup (yukgaejang) and savory jjajangmyeon, a noodle dish bathed in a rich black bean sauce. And before you leave, indulge in their pancakes for the perfect ending to your Korean dining experience.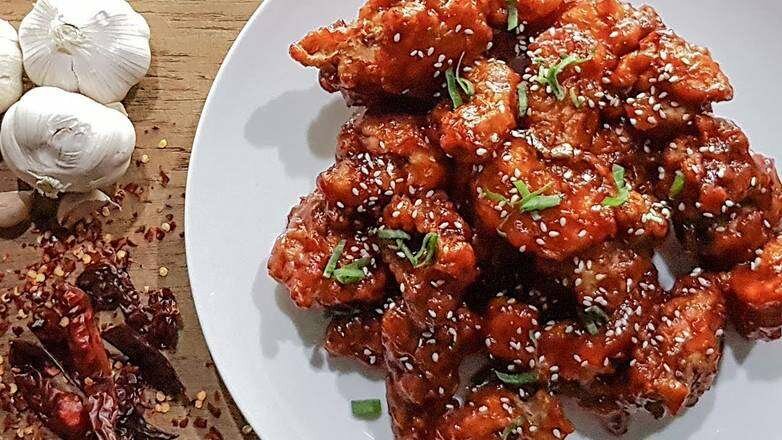 Source: Damso Korean Restaurant
Consider planning in advance to secure a nearby parking spot, guaranteeing you can fully savour the delightful Korean flavours without any parking worries.
6. Hwa Won: Where Authentic Korean Cuisine Meets Family Hospitality
Since 2003, Hwa Won, a cherished family-owned Korean restaurant in Amsterdam's Zuideramstel neighbourhood, has been a bastion of authentic Korean flavours. Their expansive menu features favourites like bulgogi, galbi, bibimbap and the flavourful stir-fried japchae, catering to both meat lovers and vegetarians. The restaurant prides itself on using only the freshest, high-quality ingredients, ensuring every dish bursts with authenticity and taste. Coupled with a casual, inviting ambiance, Hwa Won promises an immersive and delicious journey into Korean cuisine.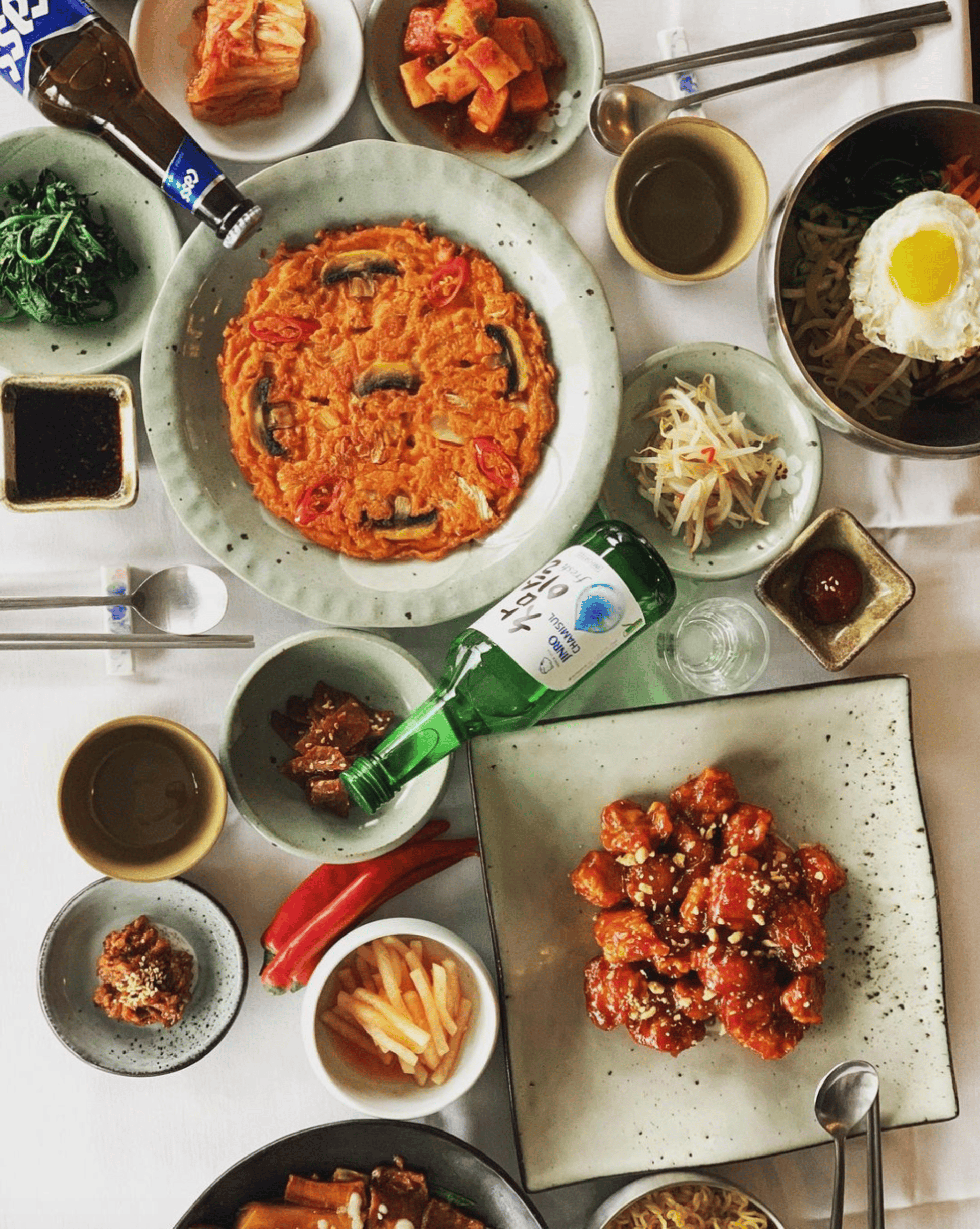 Source: Hwa Won
For a hassle-free dining experience, it's advisable to plan ahead by reserving a nearby parking spot. Mobypark allows you to secure your parking spot in advance and ensure you can relish the authentic Korean cuisine without the stress of searching for parking!
7. De Patchka: A Taste of Korea, Without the Meat
De Patchka, born in 2020 from the vision of a passionate Korean couple, strives to serve delectable and eco-conscious Korean cuisine. Emphasising fresh, seasonal produce, they craft each dish upon order, ensuring authenticity and minimising environmental impact. Their menu boasts a delightful array of Korean flavours, featuring bibimbap, bulgogi, japchae and more, all exclusively vegan and often gluten-free. The restaurant's laid-back ambiance and attentive staff create an inviting space, making De Patchka a must-visit for a genuine and delicious vegan Korean dining experience in Amsterdam. With a nod to Japanese 'depachika', this gem blends plant-based Korean and Japanese street food, capturing the essence of both cultures.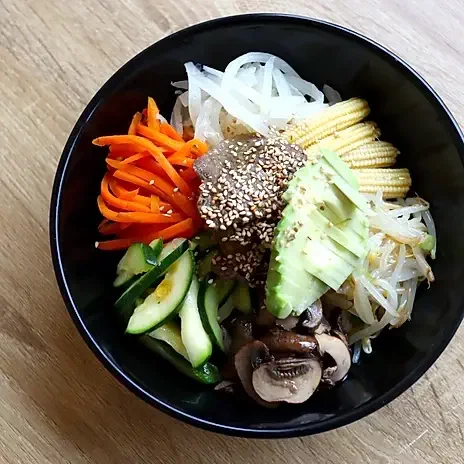 Source: De Patchka
And if you need parking, Mobypark offers a list of available convenient parking options in the bustling De Pijp neighbourhood. Book your spot at Parking Garage De Pijp Amsterdam and take an easy 5-minute walk to the Korean vegan paradise!
8. The Bab: Sizzling Korean Delights and Budget-Friendly Bites
The Bab, a beloved Korean fast-food gem in Amsterdam, boasts two convenient locations—one in the Oost district and another in the Oud-West district. Renowned for its fresh, genuine Korean cuisine at budget-friendly rates, The Bab prides itself on a thoughtfully curated menu. Expect Korean staples like bibimbap, japchae, bulgogi and kimchi, each exquisitely prepared. Their signature bibimbap, served piping hot in a stone bowl, features a delightful medley of rice, vegetables, meat and egg. Not to be missed is their delectable bulgogi, grilled to perfection. The casual, intimate atmosphere with limited seating adds to the charm, enhancing the joy of a quick yet delicious Korean feast.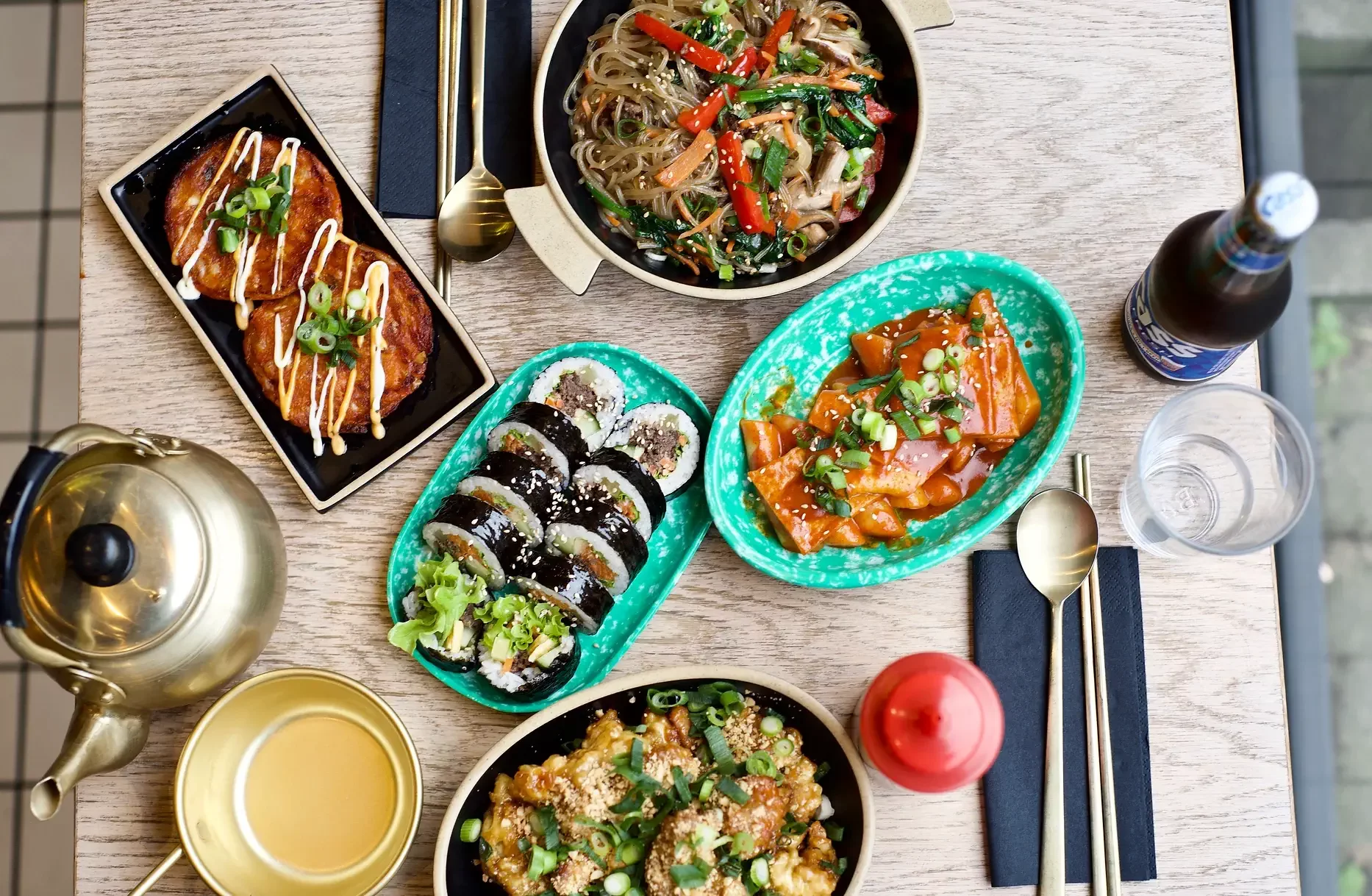 Source: The Bab
When considering a delightful meal at The Bab, a smart move is planning ahead for convenient parking with Mobypark. For a visit to The Bab Oud-West, securing a parking spot nearby can be efficiently managed by reserving a spot at Parking Leidseplein Nassaukade Amsterdam, just a 7-minute walk away. If you're headed to The Bab Oost, then don't forget to check out nearby parkings, or simply book a spot at Parking Wibautstraat-Oosterpark The Social Hub Amsterdam in advance and take a 6-minute stroll to the restaurant!
9. Gangnam Chicken: Crispy, Crunchy, Korean Flavor Explosion
Gangnam Chicken, a prized gem in Amsterdam, brings Korean fried chicken to life with two vibrant locations, one in the West district and another in the Oost district. The hallmark of this establishment is its irresistibly crispy and juicy chicken, renowned for its diverse and unique flavours. The menu boasts an array of Korean delights, featuring fried chicken, tofu, and delectable chicken wings. The chicken is double-fried to ensure that it is crispy on the outside and juicy on the inside. Gangnam Chicken elevates the fried chicken game with flavours like soy garlic, spicy Korean pepper, honey lemon and savoury BBQ, ensuring each bite is an explosion of taste. Complementing these delights are an array of Korean side dishes, from kimchi to fries and pickled vegetables, all freshly prepared daily. This welcoming, intimate space embodies a casual and relaxed vibe, inviting patrons to savour their meal at a few cosy tables or a counter. Gangnam Chicken offers a quick and delightful Korean meal, where the chicken's crunch and flavours take centre stage, backed by a casual ambiance and a friendly team.

Source: Gangnam Chicken
For a seamless Gangnam Chicken experience in Amsterdam, planning ahead for parking can make your visit smoother. If you're headed to Gangnam Chicken Amsterdam West, consider checking out nearby parkings or securing a spot at the Parking Conscious Hotel Vondelpark Amsterdam, a convenient 10-minute walk away. On the other hand, if you're bound for Gangnam Chicken Oost, park at Parking Wibautstraat-Oosterpark The Social Hub Amsterdam, just a short 5-minute stroll from the location, or search for other parkings close by. While the Oost location is takeout-only, it's the perfect opportunity for a Korean fried chicken picnic at the Oosterpark right around the corner, adding a delightful twist to your visit and making for a fantastic late afternoon outing.
10. Kim's So Korean Food: Sizzle, Savour, and K-Pop with Flavour
Discover the heart of Korean cuisine at Kim's So Korean Food, an authentic gem in Amsterdam's bustling centre. From Korean pancakes to gimbap, bibimbap, Korean fried chicken and an array of savoury Korean ramen noodle dishes, this restaurant boasts a menu teeming with traditional Korean flavours curated from premium ingredients. The cosy ambiance, accompanied by their welcoming staff, elevates the dining experience. Garnering high ratings, Kim's So Korean Food is a go-to for genuine Korean gastronomy in Amsterdam. Embrace the essence of Korea, from bibimbap to bulgogi, paired with delightful Korean beverages like soju and beer, at Kim's So Korean Food.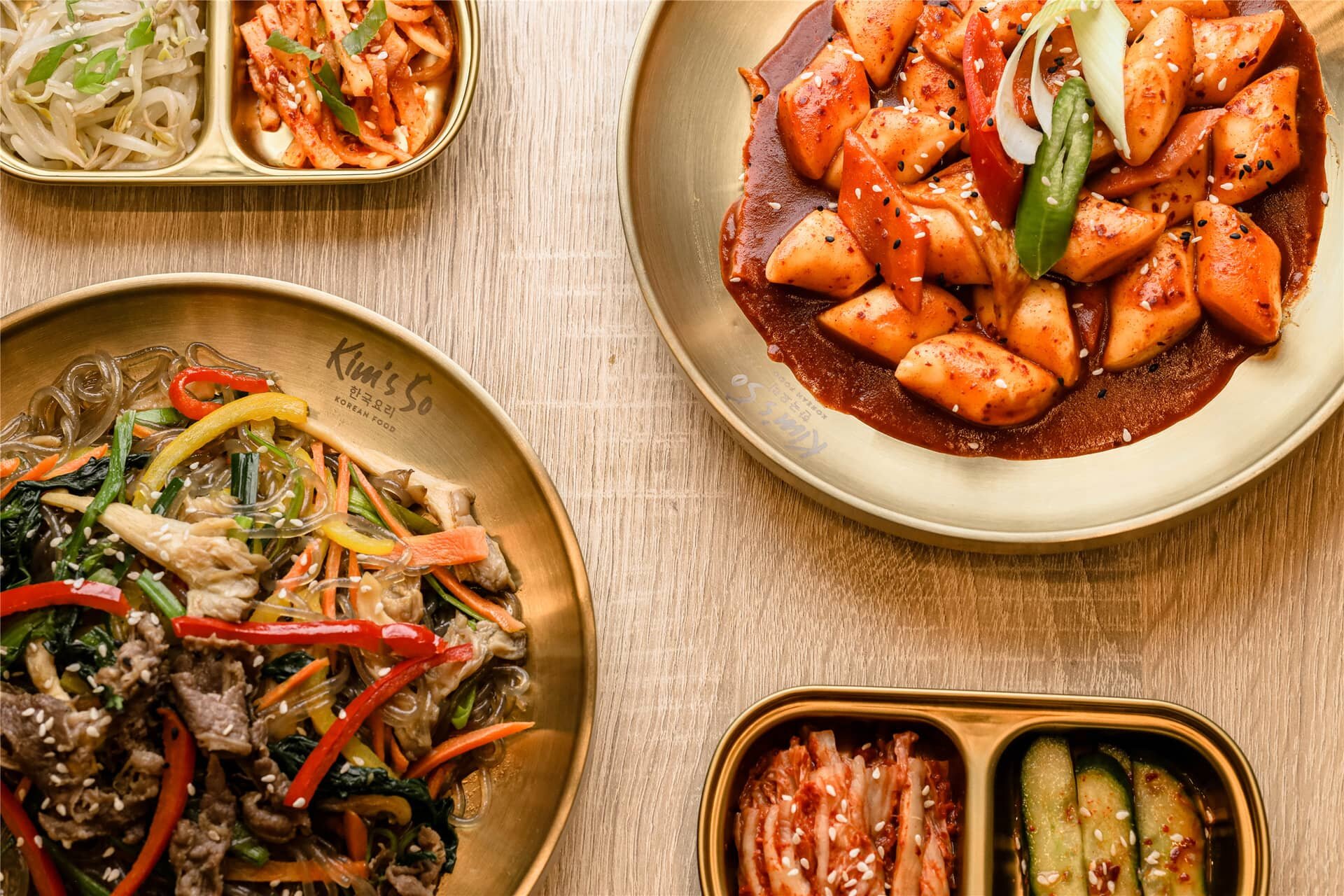 Source: Kim's So Korean Food
Make your dining experience at Kim's So Korean Food in Amsterdam's bustling city centre hassle-free by planning ahead and searching for nearby parkings. Book a spot in advance at the convenient Parking Dam Square Amsterdam, a mere 5-minute walk from the restaurant, ensuring a smooth transition from parking to savouring delicious Korean cuisine!
In the heart of Amsterdam's diverse culinary landscape lies a tantalising adventure into the world of Korean cuisine. From the sizzle of Korean barbecue to the crispiness of fried chicken, the city hosts a delightful array of Korean restaurants that promise a flavourful journey to Seoul. To elevate your dining escapades, Mobypark offers seamless parking solutions, ensuring your focus remains on savouring every delectable dish these restaurants proudly offer, without fretting over parking intricacies. Reserve your spot, let the Korean flavours dance on your palate, and park with ease, for an unforgettable dining experience in this captivating city. Get ready for a culinary adventure that paints Amsterdam with the delicious hues of Korean cuisine!
Did you enjoy this blog? Share it with your friends and family using one of the buttons below.