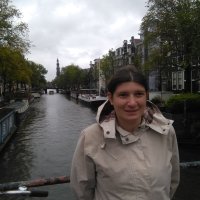 Elisa
Répondre en 1 hours
Membre depuis Feb '15
je suis une propriétaire de parking, disponible, flexible sur les horaires d'arrivé et de départ. si je dois m'absenté de Paris le jour de réservation je peut demandé à une amie de se rendre disponible pour la remise des clefs.
111 Avis
Audureau
Très bien.
15-11-2021
Gjr
Le parking est très pratique même avec un grand véhicule et Elisa a été très disponible et arrangeante je recommande vivement :)
15-11-2021
Rachel
Excellent personne ponctuelle et très sympathique
Place de stationnement facile d accès.
Je recommande vivement
03-11-2021
Alwin
Prima geregeld! Wij kregen na contact met Elisa parkeerplek nog dichter bij ons hotel. Sleutel ophalen en inleveren was duidelijk aangegeven en de plek zelf was prima.
29-10-2021
Willem
Perfect communication and easy way to park in Paris for the weekend.
03-10-2021
Erik
Fijn dat we deze parkeerplaats konden huren voor een mooi bedrag.
Het was even zoeken hoe de sleutel overhandigd kon worden, omdat druk verkeer het moeilijk maakte om aankomsttijd goed in te schatten. Hetzelfde ook bij het inleveren van de sleutel. Gelukkig was de communicatie snel en duidelijk. Geeft vertrouwen voor een volgende keer.
01-10-2021
HoGr
Save place for the car - we recommend elisa to all peaoplr, who are searching in this area!
27-09-2021
Snik
The parking was good!
Hospitality can be improved!
We already confirmed our arrival time (13.30) in the morning and got the message that we had two options: pick the key up at address of the host or wait untill 14.00 for her to arrive at the parking.
At departure we had to bring back the key to another address in Paris. If I had known this upfront I would not have choosen for this parking spot.

09-09-2021
Silke
We were utterly disappointed by our parking experience with Elisa. A first good impression with good communication quickly turned into a bad awakening: The parking spot was not as advertised on her Mobypark page and we could not use it. No effort was made from her side to resolve the situation. She was not available to find a fair agreement. Would not recommend to use parking spots from this host.
19-08-2021
sven
Excellent service and contact!
26-02-2020
Eric
Parking avec un accès aisé et de grandes places de stationnement. Le seul petit defaut: une barrière qui se referme sur les voitures laissant des marques sur la carrosserie.
25-12-2019
Ana
Elisa est très disponible et arrangeante. Parking nickel ma voiture a bien dormi au chaud! je recommande !
06-12-2019
Anita
Es war alles super ich werde defintiv mein Auto nochmals da parken und weiter empfehlen.
04-11-2019
benoit
trés bien.
23-09-2019
Daan
Goede locatie, goed beveiligd en aardige service.
20-09-2019
Hervé
Bonjour,
Adresse pas facile à trouver. Mon GPS est il trop vieux,?
La remise des clefs à une adresse assez lointaine du garage pose un problème surtout si on est seul dans la voiture. En effet il est presque impossible de la garer . Il vaut mieux être deux pour que le chauffeur reste.
Le prix peu élevé de la location fait, cependant, accepter ces petits désagréments.
06-09-2019
Marc
Sehr freundliche Vermieterin. Pünktlich. Großer Parkplatz. Einlaßkarte für einen 24/7 Zugang bekommen. Nahe gelegene Metrostation 'Montgallet' (ca. 250m). Werde versuchen den Stellplatz beim nächsten Paris-Trip wieder zu bekommen. TOP!!!
02-09-2019
Ivan
Everything was as expected. The parking space was fairly spacious and secure. The owner was very friendly and gave me clear instructions. I would recommend it.
12-08-2019
Manon
It was a nice parking place in a big parking garage. Elisa was already texting and wairing for us; very toughtful.
05-08-2019
Corinne
Parfait. Je ne connaissais pas le principe.
Super situation pour be pas vraiment rentrer dans Paris et direct.
Elisa très ponctuelle
31-07-2019
Floor
Good, safe parking space for not much money. Elisa was very helpful. Thank, Elisa!
21-07-2019
Adriaan
Elisa was very helpful and understanding when we arrived way later then planned. The parking is conveniently located near the ring road and metro stations. Will try to reserve this parking again the next time we will be in Paris.
15-07-2019
Jitte
Prima parking, eigenaar was op tijd aanwezig volgens afspraak en de parking is heel veilig. Wel moesten we de sleutel nog een paar km verderop afgeven, dat was een nadeel.
03-06-2019
Jean-Michel
Parking sécurisé très bien placé et facile d'accès avec les informations très claires de Elisa.
Je recommande.
02-06-2019
E.J. Kolkmeijer
Very reliable, very helpful and a good parking spot in a good garage,
I recommend Elisa to everybody who will go to Paris!
03-05-2019
Hermann
Netter Kontakt - alles hat reibungslos funktioniert: Buchung, Kontaktaufnahme und Terminabstimmungen. Sehr positiv war die große Flexibilität in Bezug auf die Ankunftszeit/Abfahrzeit. Der Parkplatz war groß genug für einen Mercedes SUV, obwohl die Zufahrt relativ eng ist.
28-04-2019
Clements
Excellent service! Couldn't be more pleased. Elisa made the parking experience simple and easy. Thank you!
21-02-2019
Jean Charles
Situation géographique et contact impeccables
17-02-2019
mas
Parking bien placé à proximité de la Porte de Montreuil. Facile d accès facilité pour ce garer dans l emplacement. Et Elisa est très disponible pour répondre à toutes questions.
08-02-2019
a-pascale
Impeccable! Les indications, l'accueil et la communication.
19-01-2019
Marine
J'ai apprécié ne pas être contrainte à une heure fixe pr le départ. Il faut juste remette les clefs ds une boîte aux lettres.
25-12-2018
marc
Accueil et contact facile
14-09-2018
Alexandre
Parfait ! Merci encore à Elisa
09-09-2018
jessica
PARFAIT ! Tout était vraiment parfait ! Localisation idéale ,stationnement confortable, nous recommandons vraiment ce parking
Elisa a été vraiment très agréable, arrangeante et flexible sur les heures d arrivée et de départ et nous la remercions encore pour ca !
Merci Mobypark pour votre site !


24-08-2018
Ralf
Elisa did not come to the parking place! Bad communication. We waited their one hour.
18-06-2018
Jeffrey
Fijne plek net aan de rand van de stad. Goede parkeerplek ook.
Elisa reageerde ook meteen bij het aanvragen van de parkeerplaats en ze is ook flexibel als het gaat om de vertrektijd.
09-05-2018
fseyger
Parkeerplek aangevraagd bij Elisa en ze reageerde gelijk met de app. Tijd afgesproken en ze was er om die tijd. Ruime parkeerplek in een overdekte prive parkeergarages. Sleutels van het hek meegekregen zodat ik nog bij de auto kon. Vlakbij bij ons hotel Adagio. Prima.
06-05-2018
Sanne
We had to wait upon arrival, had to contact Mobypark and Elisa who picked up eventually. Parking was very good, secured and close to metro. Upon check-out Elisa was there to meet us and to open & close the gate. Overal experience was good, but waiting at time of arrival was a bit frustrating at that moment!
06-05-2018
Leroy
Très bon accueil et très disponible encore merci
29-04-2018
Camille
Very easy and practical. Elise was flexible regarding the arrival time. We met directly in front of the parking and dropped off the keys when we left. Perfect for a stay in 11th, 12th or 20th arrondissement.
17-04-2018
Isabelle
Super service: Big parking space . Friendly punctual service. Just perfect!
15-04-2018
Thierry
Lisa a été disponible pour la remise des clefs+ possibilité de déposer les clefs dans une boîte en partant : pratique
Parking : grand , propre
Résidence sécurisée
Bon quartier
Bref, tout est bon
13-04-2018
VIRGINIE
Place spacieuse, communication facile, service pratique!
01-04-2018
Donnez
Aucun soucis , impeccable
10-03-2018
nathalie
Très bon accueil
01-03-2018
Jasmin
Wir waren sehr zufrieden und sagen Danke!
16-02-2018
Chrysovalandis
War alles so wie erwartet! Der Stellplatz war Ok und durch ein elektrisches Tor abgesichert. Die Vermieterin war sehr freundlich und hilfsbereit. Vielen Dank!!
15-02-2018
marie-josèphe
Très satisfaite de cette première expérience.Très bon contact avec la propriétaire,le parking est facile d'accès et la réservation a été très simple.
28-01-2018
Estee
Parking in Paris is now a piece of cake, thanks to Elisa. I traveled down by car to visit my cousin and Elisa met me, even though I was 1,5 hours too early. She explained everything clearly and was very considerate. Next time I travel to Paris, no doubt I'll park with Elisa again.
15-01-2018
ELODIE
Malgré quelques changements de programme, Elisa a pu répondre à nos attendes, et nous proposer un autre parking.
Nous recommandons.
11-01-2018
Jan
Het contact met Elisa was snel gelegd, via mail en whatsapp. Ze kan zich redelijk uitdrukken in het Engels, was erg behulpzaam, flexibel en vriendelijk. Van harte aanbevolen!
27-11-2017
Michael
Thanks a lot for making it possible on short notice
12-11-2017
Dennis
We had a last minute deal with Elisa. 15 minutes after booking we could enter the parking. Save, clean and accessible parking.
07-11-2017
Oo
Elisa est très arrangeante, ponctuelle. Parking impeccable. A recommander.
01-11-2017
Sylvain
Parfait. Merci.
24-10-2017
Jan-Willem
Prima geregeld, Elisa was keurig op tijd, zowel bij aankomst als vertrek
20-10-2017
Arnoud
Due to unavailability of this parking spot, Elisa was able to offer an alternative close to this location. Everything went smooth both arrival and departure. Would definitely use her services again in the future!
27-09-2017
Wijnand
Clear communication , on time and easy to access. A pleasent and safe way of letting your car relax in Paris.
18-09-2017
Liara
Super! Elisa war bei Fragen immer gut zu erreichen und das Auto findet dort einen sicheren Platz.
03-09-2017
Mohamed
It is a good place and the contact with Elisa went well.
28-08-2017
Ferreira
Bien situé près du métro, Elisa est super, bonne organisation!
14-08-2017
Emmanuel
Tout c est passé comme prévu
Merci à Elisa d avoir répondu en dernière minute
14-08-2017
Emmanuel
Belle place de parking, sans souci pour mon Scenic (la place est plus longue!).
Rdv ponctuel, entrée et sortie à ma guise, bon contact.
Je recommende !
13-08-2017
Lothar
Platz war gut! Kontakt war schnell möglich. Wir waren sehr zufrieden!
13-08-2017
Marieke
We had a great experience: parking was very easy as when we arrived Elisa was waiting for us and showed us the space. We could keep the keys for the days requested and only had to put them in her mailbox when we left: very easy.
11-08-2017
ANNE
Parfait accueil, place de parking conforme au descriptif.
08-08-2017
Marine
bon emplacement, parking sécurisé. Elisa communique facilement
Je recommande
08-08-2017
Felix
Der Parkplatz liegt zentral und eine Metrostation befindet sich auch in direkter Nähe. Die Übergabe der Schlüssel war problemlos und man kann 24/7 zu seinem Auto. Die Tiefgarage ist mit einem Rolltor abgesichert, das nur per Funkschlüssel geöffnet werden kann. Am Abreisedatum wird der Schlüssel einfach in einem Briefkasten hinterlegt.



05-08-2017
sabine
Sehr netter Kontakt, TOP-Service vor Ort!!
Jederzeit sehr gerne wieder!!!!!
02-08-2017
Valérie
Reaĺly good experience with this parking lot rue de Montreuil (reaĺly safe). Elisa was on time when we arrived to give us the bip and she was reaĺly helpful. Perfect location near Nation.
29-07-2017
Stéphane
Ponctuelle et facile pour rendre le bip du garage. Parking dans résidence sécurisée. C'est parfait.
27-07-2017
Guislaine
Tout s'est très bien passé et Elisa à été très disponible.
26-07-2017
garry
Garé ailleurs à cause d'un contre temps mais pas du tout loin. Elisa est disponible et fort sympathique!! Je recommande!
25-07-2017
Bettina
Super emplacement même si un peu petit
Elisa était très serviable, merci !

24-07-2017
Esther
Excellent service et place spatieuse
17-07-2017
coralie
Organisée et professionnelle. Nous renouvellerons l'expérience!
08-07-2017
Anne-Marie
De P-plaats was echt TOP. Makkelijk bereikbaar en goed beveiligd. De ruimte is niet heel groot: een Audi A4 sedan past precies. Elisa is goed bereikbaar en denkt heel erg goed mee. Als we de volgende keer weer in deze buurt een hotel hebben in Parijs wordt dit zeker weer het onderkomen voor onze auto.
29-06-2017
johan
Parfait contact.Personne très disponible,je recommande
23-06-2017
Alix
Tout s'est super bien passé. Élisa a été très patiente (j'ai eu du retard à cause des ralentissements) et m'a accompagné jusqu'à la place de parking. Je repasserai par Élisa si j'ai besoin d'une place de parking à Paris.
12-06-2017
Jean-Pierre
Un rendez-vous à l'heure, de la disponibilité, tout a été parfait.
Attention la place est étroite, la manœuvre délicate.
Merci Elisa.
10-06-2017
Rik
Great parking spot and everything went very smooth.
06-06-2017
Ralf
Safe Place! The deal was very good!
29-05-2017
Pim
Excellent parking spot in Paris. The contact with Elisa went smooth, and it is a great advantage that she has multiple spots in case you want to park with a group/family.
28-05-2017
Marie
Très bien, une fois les cheminements compris. En tous cas très pratique pour nous. Merci à Elisa
26-05-2017
Myrthe
Thanks Elisa, you were very helpful!
For interested people: keep in mind that the parking-spot is not big enough for a bigger car.
Thanks for bringing a solution for this!
Au Revoir!
27-04-2017
Peter
OK - good arrangement. Correct pricing.
16-04-2017
Elodie
Tres bonne explication
Merci pour la disponibilité
24-02-2017
Antoine
Parfait !
13-02-2017
Joost
Great parkingspot near metro 2. Excellent value for money and it can fit a big old Volvo. Elisa her English is not the best but we managed to understand each other!

Thanks Elisa.
05-01-2017
Loïc
Comme convenu, échange simple, disponibilité.
31-12-2016
d.h.
Place comfortabele, service superieur, communications effectives.
12-11-2016
Tadey
Very nice Contact. Evrythink fits the advertisement. Thanks
20-10-2016
Mona
Parfait, le parking est sûr et en bon état, et Elisa a été très arrangeante.
06-09-2016
Michal
Thanks Elisa the parking was very useful and easy for us to get to
05-09-2016
Geoffrey
Elisa was very efficient and the parking space was exactly as described. Good location, no problems. Highly reccomended.
01-09-2016
Laurent
Très bien situé et Elisa très arrangeante pour le RDV. Je recommende.
15-08-2016
Daniel
Very good parking in a safe house and nice contact.
15-08-2016
Marc
Elisa was very helpful and immediately gave me a call after accepting my booking. On arrival she was waiting for me a the garage to give me the keys and show me the parking place. Great experience parking in Paris.
08-08-2016
Kira
I was searching for a Parking place in Paris with a hight of 2,0m. The Problem is, that you have no filter while searching on the mobilepark-website so I asked Elisa before.
She didn't know it, but accepted my request so I had definetly to pay for the place.
It was annoying that the garage had just a hight of 1,90m (there was a sign on the entrance) so we couldn't get in and had to search another place.

Nevertheless I think I can recommend the place - very central and the garage looked good from the outside.
But only for cars smaller than 1,90m!! ;)
11-07-2016
Joris
Nice parking spot in a nice location. Communication upfront was good and fast. Elisa left the entrance key at the hotel so we didn't have to do anything except give it back.

The parking spot itself is inside a building, we didn't get the code through the gate but used the car gate with the remote to walk in, and that worked out fine.
04-07-2016
Gregoire
Élisa est très sympathique et arrangeante. Je recommande vivement.
02-07-2016
Valérie
Impeccable! Tout s'est bien passé.
16-04-2016
Deby
Elisa was good. All worked well.
Merci Elisa!
31-03-2016
Arnaud
Super emplacement, facile à trouver. La propriétaire est très disponible.
30-10-2015
timo
Very close to the center and round the corner metro entrance.
22-10-2015
andreas
Bonne journée,
Il a très bien travaillé tout.
Merci beaucoup
12-09-2015
Rémi
très bon parking, sécurisé, je recommande
28-07-2015
Wouter
Good contact and flexibility on timing - perfect description - key available during the full period for access to the car if necessary. Save covered place for your car in arr.20 in the city center of Paris - metro/bus nearby!
22-07-2015
Philippe
Aucun problème . Très satisfait. Accueil impeccable.
12-07-2015