Berlin to Amsterdam in 3 days: A Road Trip Guide where you visit 7 cities
25-02-2022
Road tripping from Berlin to Amsterdam is a great way to discover many fun cities in two great countries of Europe: Germany and the Netherlands. Both are unique and have so much to offer. Before getting started on your road trip, there is a lot to consider and plan - where to stay, where to eat, what sights to see, and more.
This blog gives you inspiration for a route with the best local tips and necessary stops! Let's begin with the starting point of this journey: Berlin.
Day 1: Start your journey the right way: Brunch in Berlin!
You'll need to prepare yourself for the journey ahead with a nourishing breakfast! Thankfully, Berlin has many wonderful brunch options, such as Cafe Einstein. This cafe is located in a historical building and serves traditional breakfasts from around the world. It's the perfect place to begin your adventure.
Where to park in Berlin
Around the corner from Cafe Einstein, you can park your car at the Sheraton Grand Esplanade Hotel. This parking is safe and cheap - only €3 per hour, making it a great alternative to street parking.
Take a walk in Großer Tiergarten
Just up the street is Großer Tiergarten, Berlin's largest and oldest park. You will be driving for a while after this, so take your time to stretch your legs and walk off your brunch in this 210-hectare park. Originally created in the 16th century as a royal hunting ground, Großer Tiergarten is now a public park full of open lawns, tree-lined paths, and numerous memorials and cultural sights.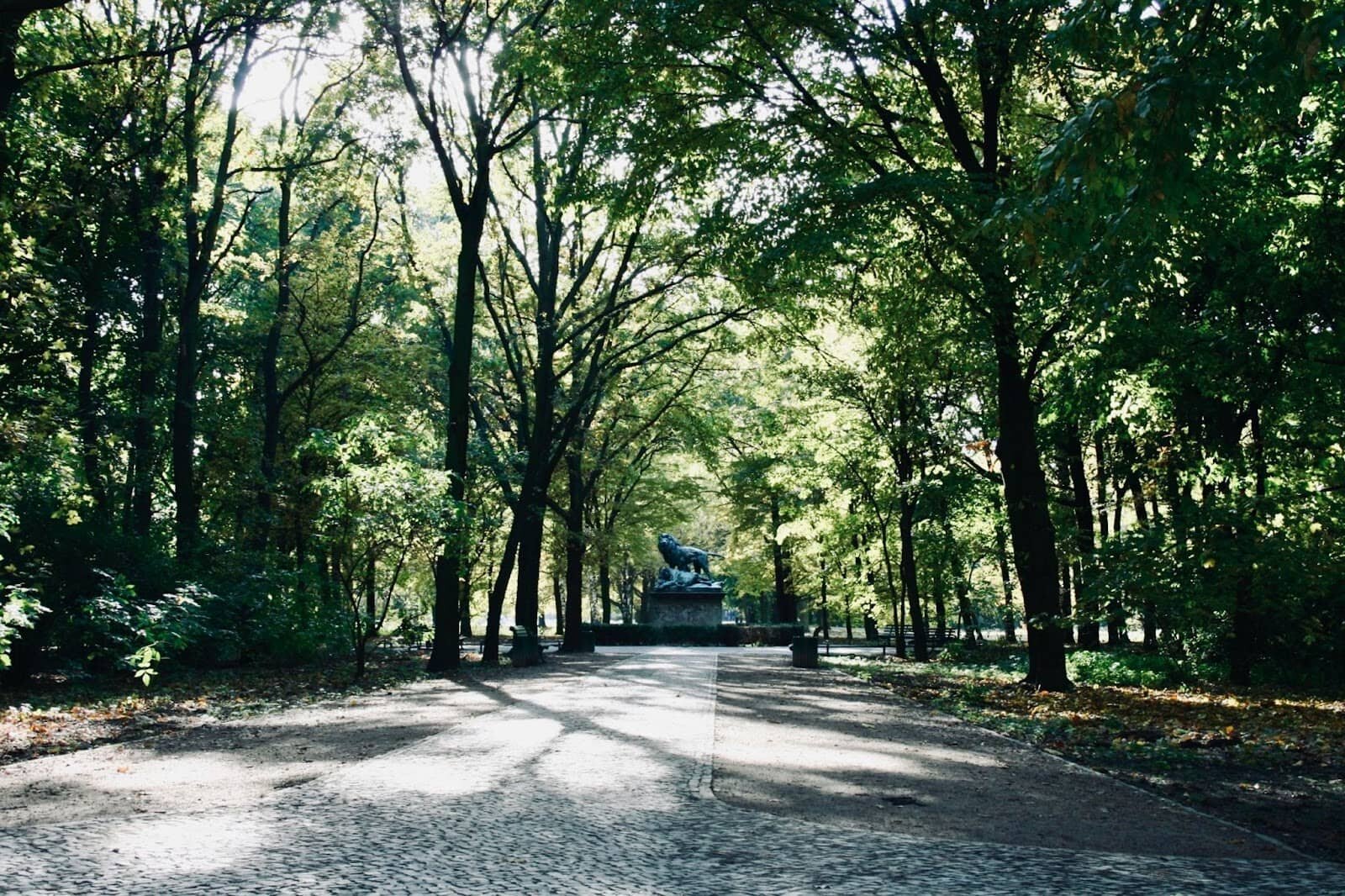 Next stop: Make your way to Hamburg
Hamburg is a port city in northern Germany along the Elbe river. It's famous old port, known as HafenCity, is definitely worth seeing for its 19th-century red-brick warehouses that line the multiple canals. Dive deeper into Hamburg's shipping history by visiting the International Maritime museum. The museum's exhibits show more than 3,000 years of maritime history!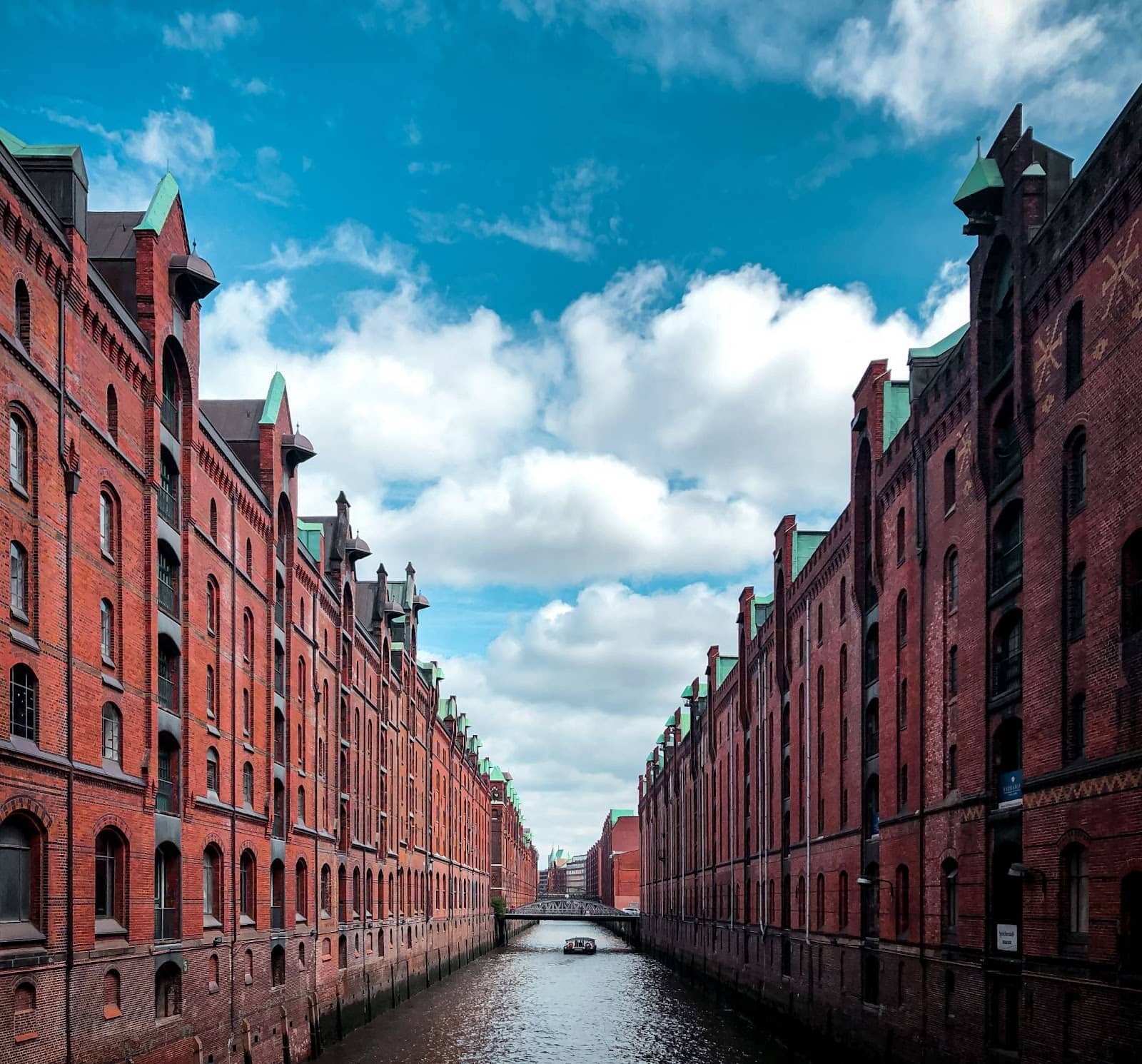 Where to eat: Lunch in Hamburg
By this time, you'll probably be getting hungry for a late lunch. And what's better than eating a hamburger in Hamburg? Luckily, Bobby's Burger will satisfy your cravings. Bobby's uses fresh ingredients to create high-quality, over-the-top burgers with juicy patties and fluffy buns. This is a great spot for burger lovers in Hamburg.
Next stop: Drive from Hamburg to Bremen
It's time to get moving for the last stop of the day. An hour-and-a-half drive on the A1 highway will bring you to Bremen, another maritime city in Northwestern Germany.
Where to park in Bremen
When arriving in Bremen, head straight to the Courtyard by Marriott near Bremen's central station for cheap and secure parking. This parking lot is centrally located, meaning you can easily park here and walk around the city for sightseeing.
What to do in Bremen
A popular site to see in Bremen is the historic marketplace, called the Marktplatz. It is located in the Old Town in the heart of the city. Here, you can see the town hall, built in a beautiful mix of Renaissance and Gothic styles. A statue of Roland, Germany's most famous knight, is also located in this square. If you visit during the Christmas season, the Marktplatz is temporarily transformed into an authentic German Christmas market.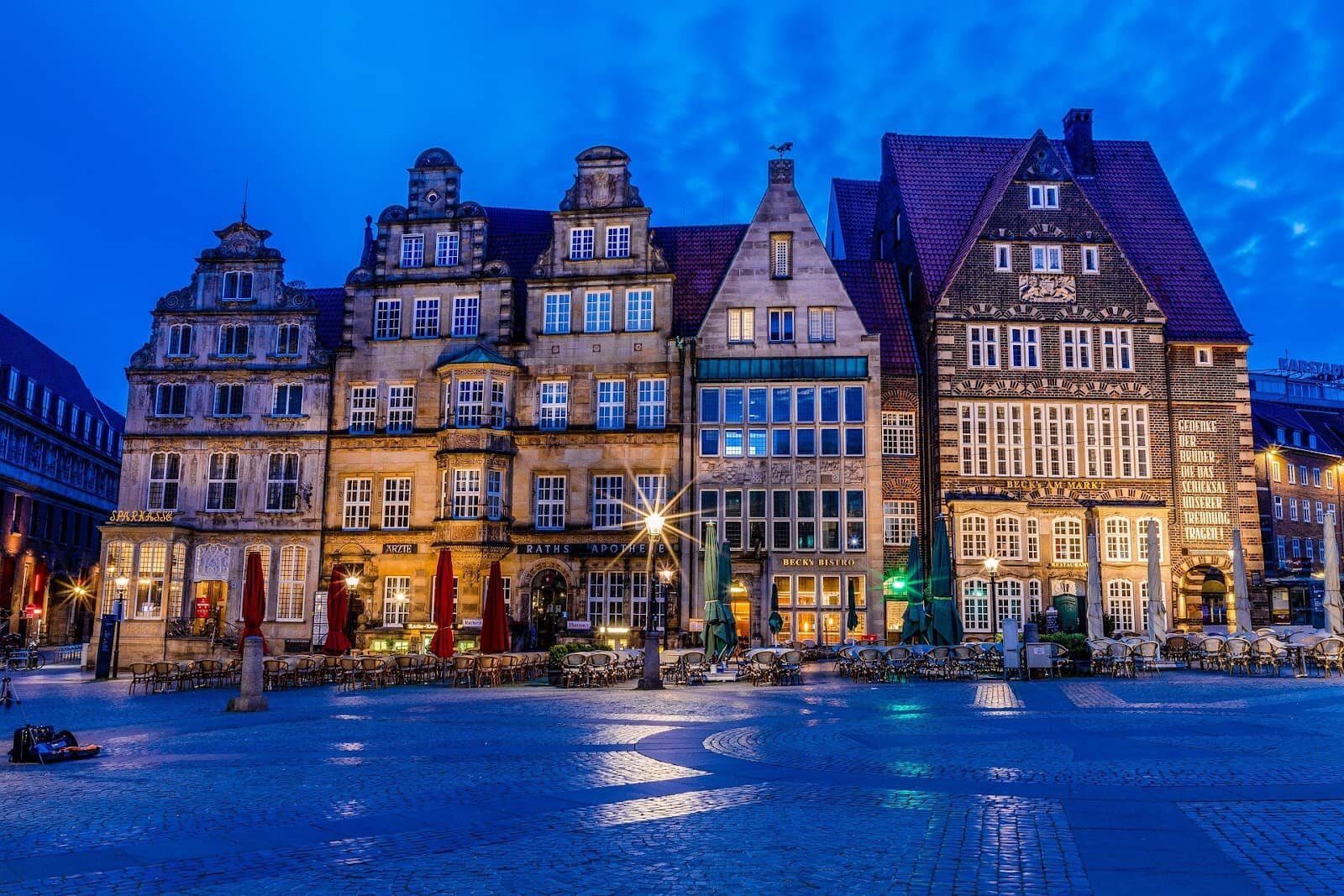 Where to stay in Bremen
After a long day of driving and sightseeing, you'll be ready to rest your eyes. The Hotel Munt Am Stadtwald is an eco-hotel located in the city park of Bremen. The hotel includes a healthy dinner and breakfast as well as a spa and wellness centre. It has reasonably priced rooms that still ensure comfort and relaxation during your stay.
Day 2: Begin with breakfast in Bremen
Rise and shine with breakfast at YellowBird Coffee in Bremen. This quaint and cosy cafe serves speciality coffee and delicious healthy breakfasts. You'll need to fuel up here for the drive ahead!
Drive from Bremen to Düsseldorf
Via the A1 highway, you can reach Düsseldorf in about 3 and a half hours. If you have time, some nice stops along the way are the cities of Münster, Dortmund, or Essen. If you choose not to stop, you'll likely be ready to stretch your legs and have a bite to eat when reaching Düsseldorf.
Park at the Dusseldorf South Moxy Hotel for convenient and cheap parking. For only €10 per day, it is possible to park even if you are not a guest of the hotel. Located next to highway A46 and Ubahn stop Holthausen, it is a great location to head into the city centre while skipping the busy traffic.
What to do and where to eat in Düsseldorf
Experience a typical German market in Dusseldorf at the Carlsplatz Markt. This calm and neat market offers plenty of souvenirs as well as flowers, fresh fruits, cheese, bread, and meats. It's also a great place to visit around lunchtime, as stands in the market serve a delicious variety of sandwiches, falafel, and handmade pasta.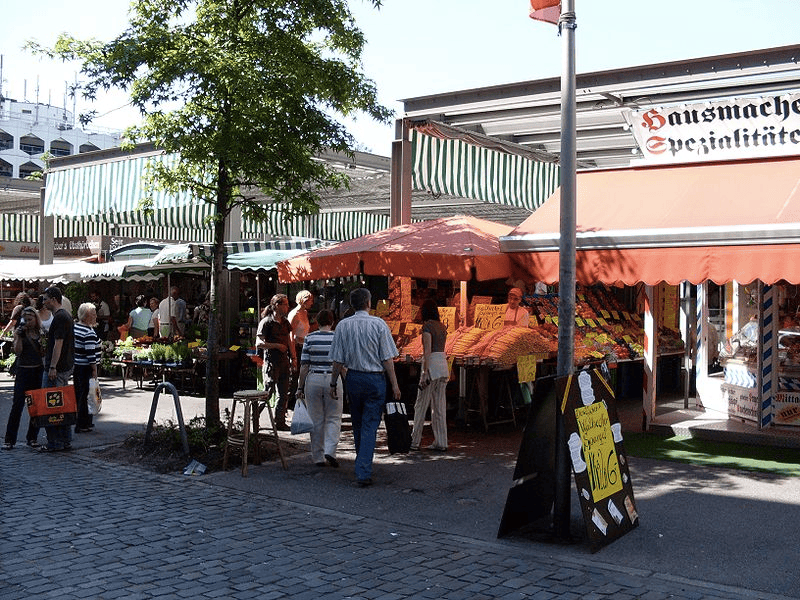 Next stop: Cross the Dutch/German border to Eindhoven
A short 1 and a half-hour drive from Düsseldorf will bring you to Eindhoven, a city in the south of The Netherlands. Eindhoven is the fifth-largest city in The Netherlands and is known as a thriving hub for technology and design.
Where to park in Eindhoven
For easy, central parking, head to the Park Plaza Eindhoven hotel. Parking is available here for just €2 per hour. It is only a 7-minute walk from the Stadhuisplein and other central sights, so it is the perfect cheap parking spot in the city!
For cheap and convenient parking at Eindhoven Central Station, park at The Social Hub Eindhoven. From here you can easily reach Eindhoven's central shopping area and you will have a secure parking spot for just €2 per hour, all in the very heart of the city!


What to do in Eindhoven
A beautiful piece of history in Eindhoven is St. Catherine's cathedral, located in the centre of the city. The church is dedicated to St. Catherine of Alexandria and was first built in the 1200s. It experienced some damage during WWII, however, it has been exquisitely restored and is lit up in beautiful colours at night.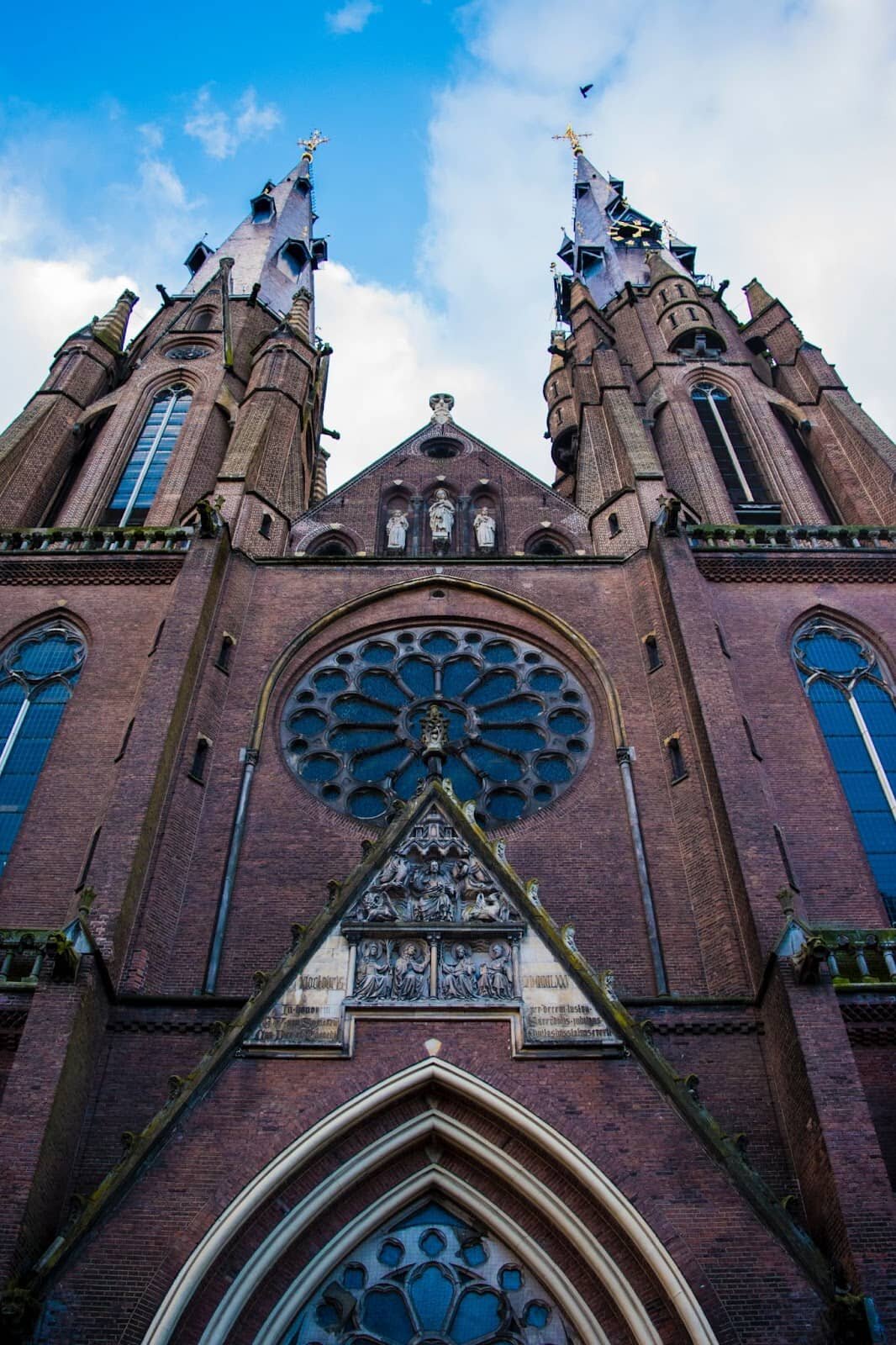 What to eat in Eindhoven
Suppose you want to experience Eindhoven like a local, the best place to eat is Café 't Rozenknopje (The Rosebud). It is known as "the living room" for everyone in the city and is a cafe and live music hall in one. Go here for live music and performances as well as a cozy bar with burgers, fries, and traditional Dutch snacks like "bitterballen" and "frikandalletjes".
Where to stay in Eindhoven
A cool and creative (and better yet, budget-friendly) place to stay in Eindhoven is Hotel The Match. Located in the heart of Eindhoven, this hotel guarantees you all the comfortable amenities you could want with reasonably-priced rooms. They also offer excellent city guides filled with local tips about the city. Plus, the hotel is full of beautiful art and design to enjoy.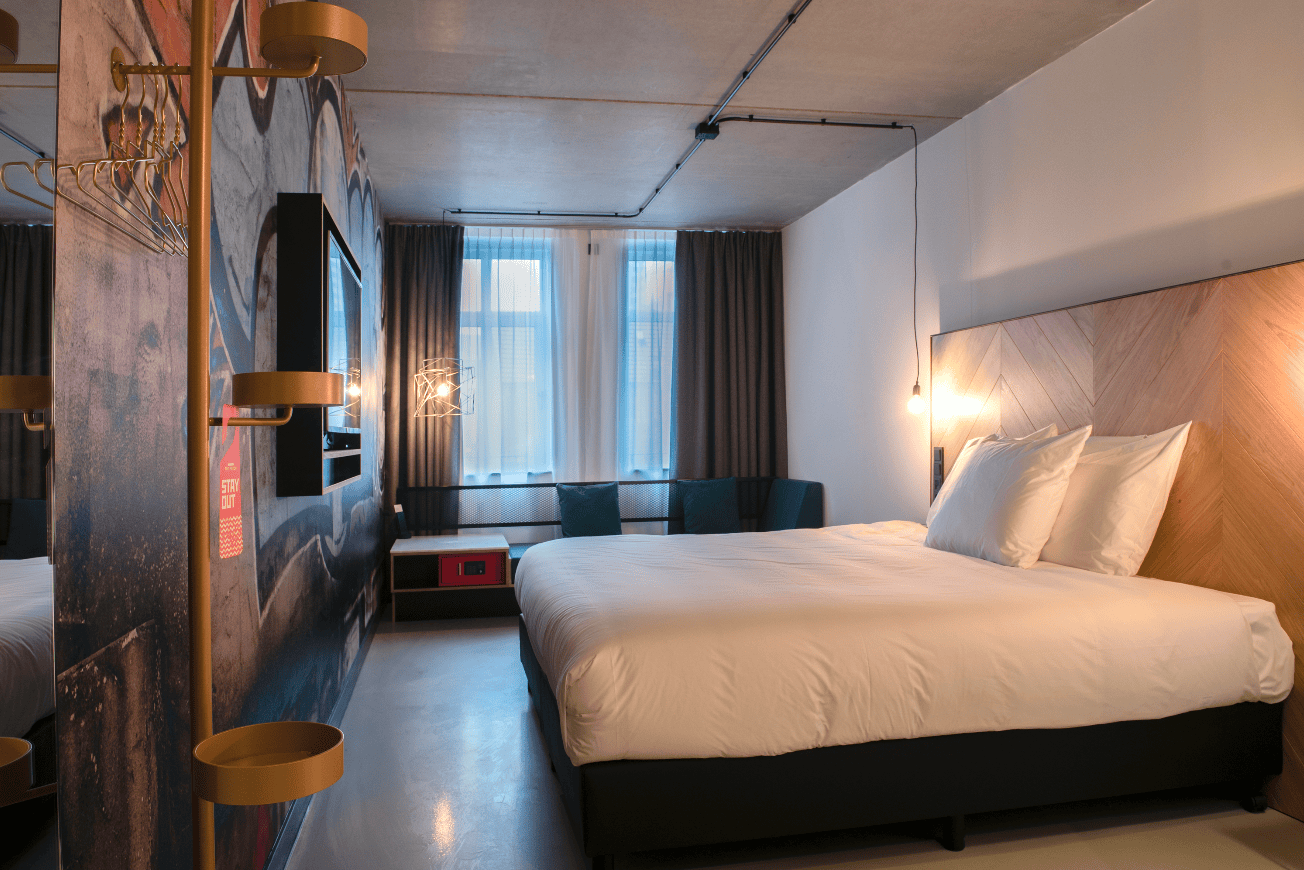 Day 3:
Start your day with brunch in Eindhoven
After a restful night, start with a delicious breakfast to give you energy for the last leg of your journey. DENF Coffee is the perfect place! This industrial cafe roasts all their beans in-house and has a wide assortment of coffees to choose from. They also have a delicious breakfast menu including overnight oats and chai pancakes, for example.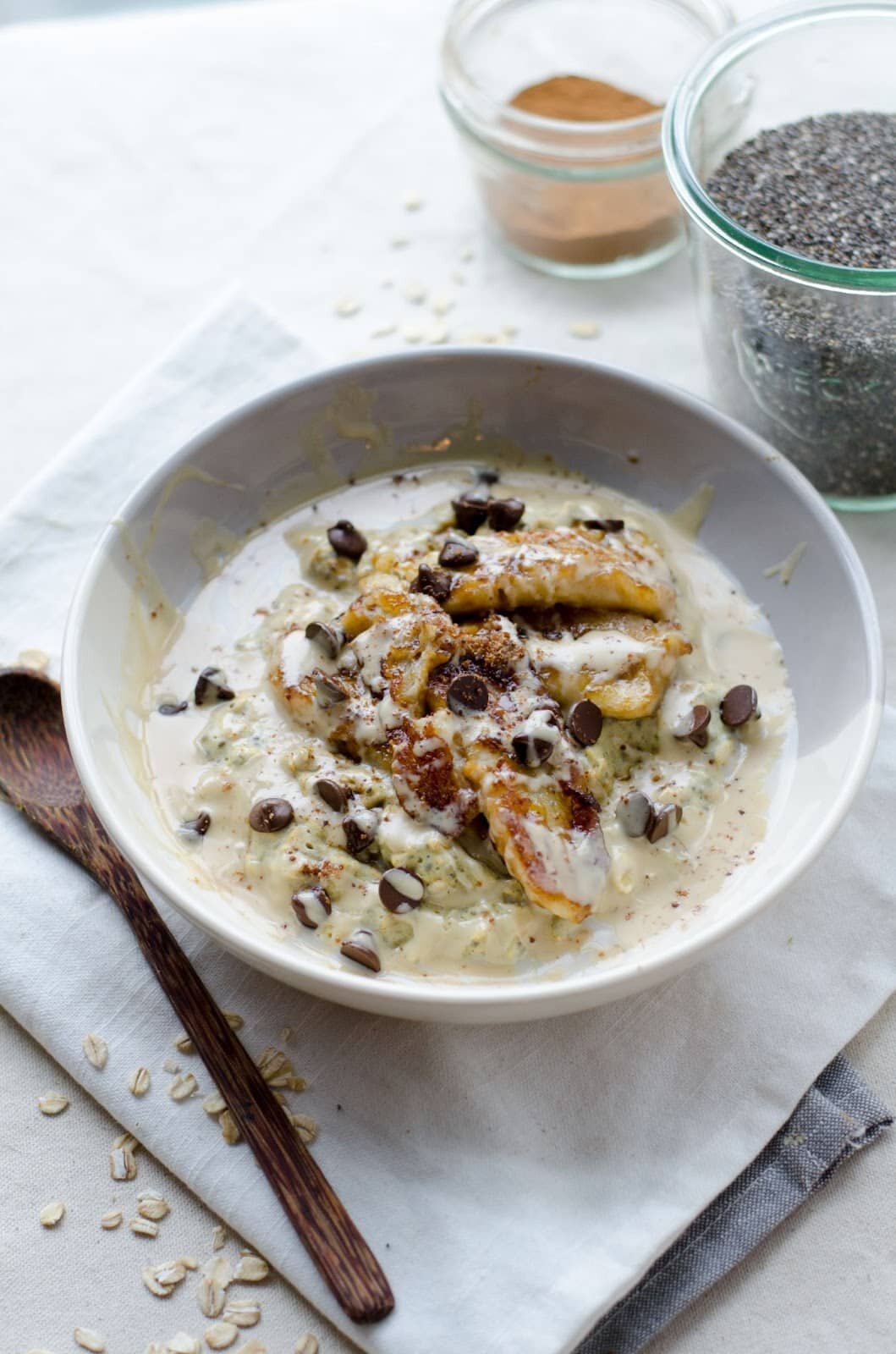 Drive from Eindhoven to Rotterdam
It's time to explore more of The Netherlands! Via the A58 and A16 highway, you can reach Rotterdam in 1 hour and 25 minutes. Rotterdam is the second-largest city in the Netherlands and has the largest port in Europe. It is also known for its modern, impressive architecture.
Where to park in Rotterdam
The Holiday Inn Express Hotel at Rotterdam central station offers an easy parking solution in the centre of the city. You can park there for just €3 per hour and explore the entire centre of Rotterdam by foot or with public transportation. This location is ideal for easy access to the rest of the city.

Another great parking option in the city is StartDock Rotterdam, where you can easily and securely park your car in the heart of Rotterdam, just by Erasmusbridge!
What to do in Rotterdam
Rotterdam is situated on the Nieuwe Maas river and has beautiful harbours and ports. A boat tour is an excellent way to see the city from the water. There are many different boat tours available, as well as a water taxi that will take you from one side of the river to the other.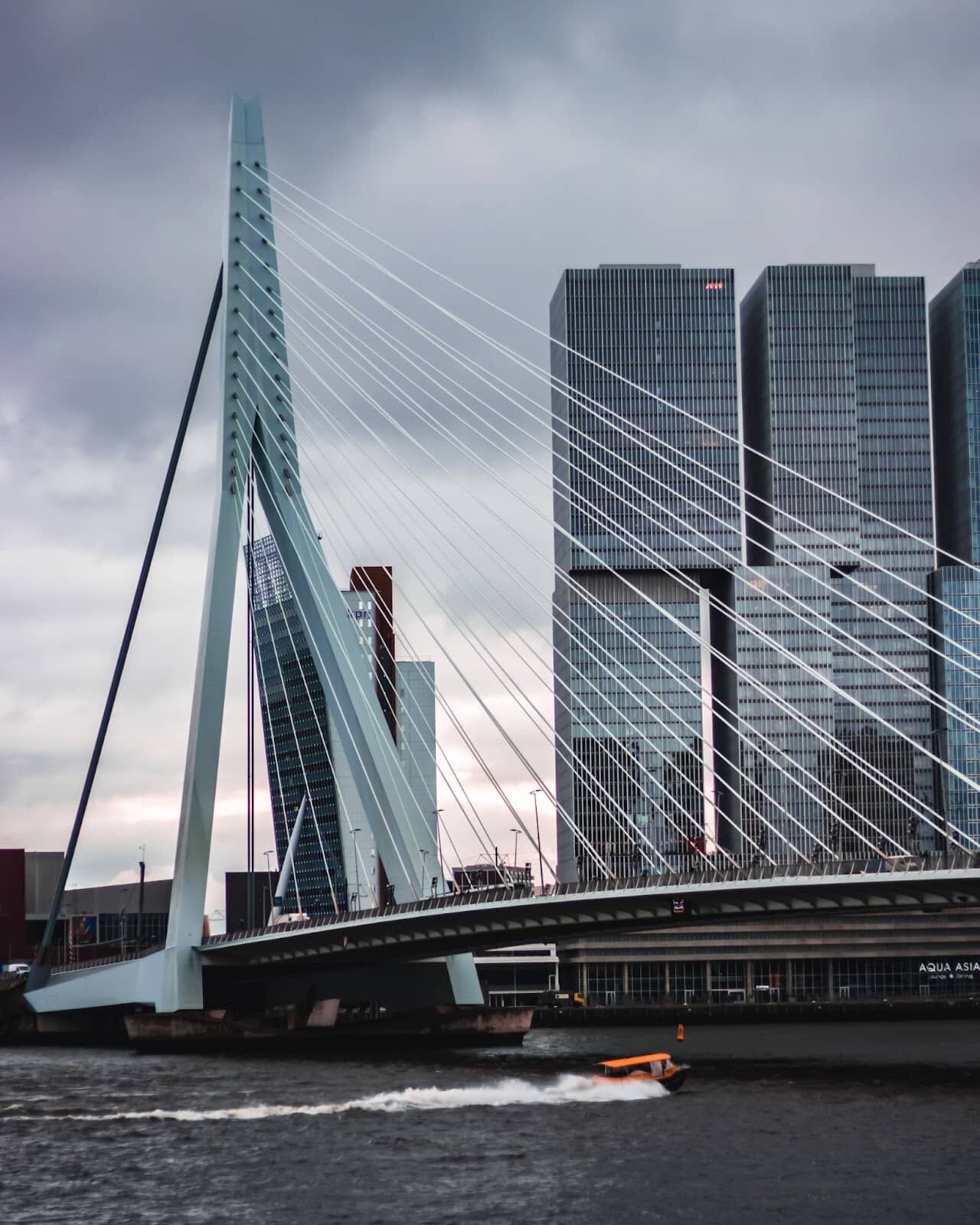 Rotterdam is also full of interesting architecture, so make sure to keep your eye out for unique buildings. The Cube Houses are an extraordinary sight and popular amongst tourists. They are a set of houses in a cuboid structure, tilted at a 45-degree angle. People actually live in these apartments, and one is even open for public viewing.


If the weather isn't ideal, another idea is to visit the Kunsthal museum. This museum is located in the Museumpark of Rotterdam and showcases art, from 20th-century pieces to contemporary art. Some interesting exhibitions that have been displayed at the Kunsthal are Picasso, Andy Warhol, and Drawn: Rotterdam! The City in Lockdown.
If you want more ideas on things to do and see in the city, check out this guide on what to do in Rotterdam for a day.
What to eat in Rotterdam
The Markthal in Rotterdam is a modern indoor food market with a lot of dining options. It is built in an iconic arch with the largest piece of art in the world, The Horn of Plenty by Arno Coenen, displayed on the ceiling. There are a large number of stalls and restaurants offering all kinds of food. Here, everyone can find something they like!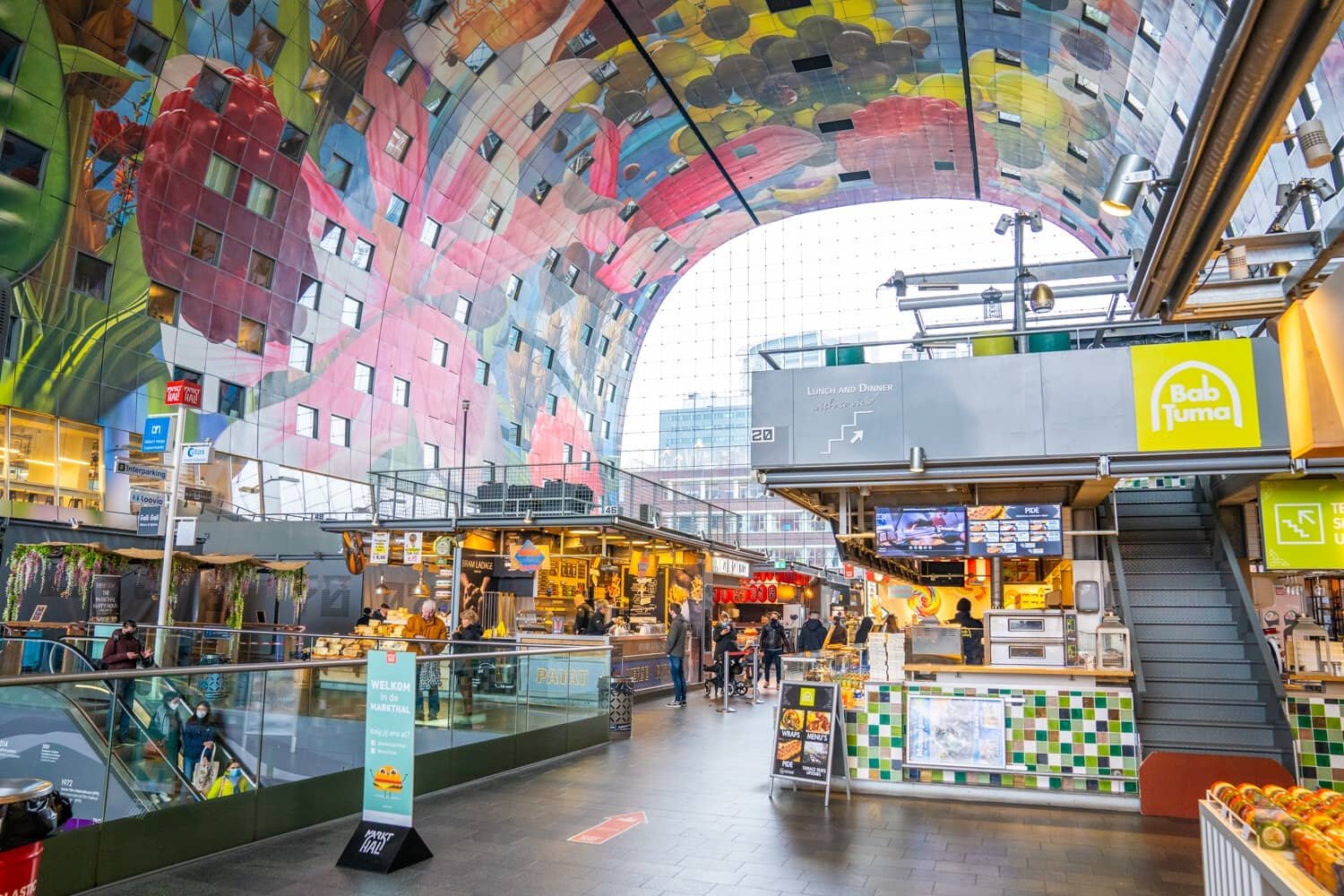 Last stop: Drive from Rotterdam to Amsterdam
It's time for the last stop of the trip: Amsterdam, the capital city of The Netherlands. The drive from Rotterdam is only 1 hour on the A4 highway. Amsterdam is a picturesque and cozy city filled with bikes, canals, and narrow, crooked houses, so get your camera ready for some beautiful sights!
Where to park in Amsterdam
Amsterdam has very expensive street parking. Thankfully, there are much cheaper alternatives. Mobypark has many available parking spots in Amsterdam for a great price. Visit the website and search for the location where you want to park to find your ideal spot.

What to do in Amsterdam:
Amsterdam is famous for being an extremely bike-friendly city. So what better way to explore than by bike? BikeRent is a great bike rental shop in central Amsterdam with reasonable prices. Rent a bike for the day and explore Amsterdam's winding canals and hidden streets. Ride to the famous Vondelpark to enjoy some nature in one of Amsterdam's most beautiful districts.
Riding a bike amongst the locals can feel a bit intimidating at first. But once you get the hang of it, you'll be speeding along the canals like you're one of them! If you need some extra convincing, read this article on why you should rent a bike in Amsterdam.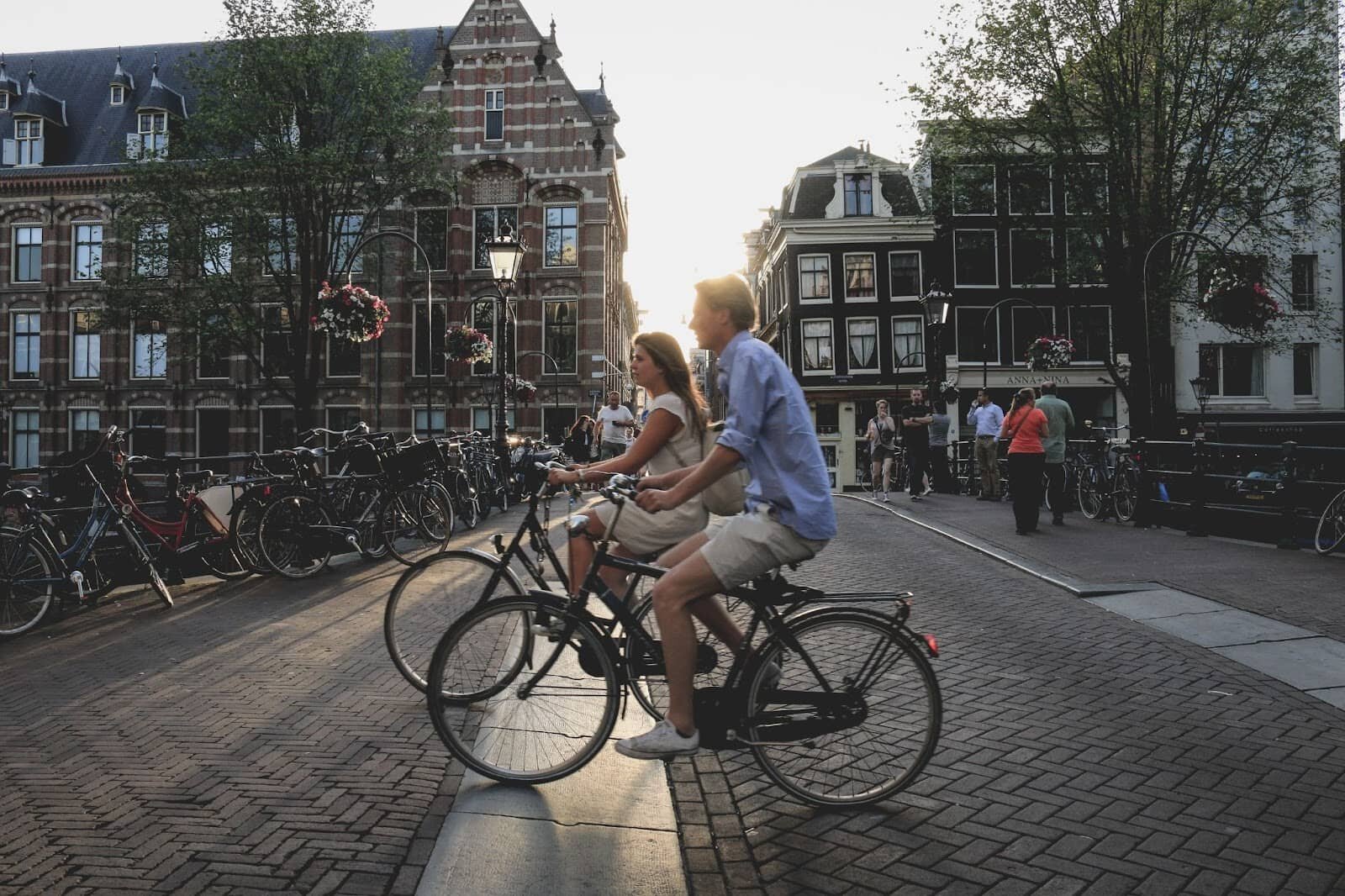 Where to eat in Amsterdam
Because of the past history of The Netherlands and Indonesia, there is a heavy Indonesian influence on Dutch cuisine. It'd be a shame not to try some while you're in Amsterdam. Luckily, there are many amazing Indonesian restaurants in the city. Kantjil en de Tijger is one of them. The restaurant is divided into two areas: One side serves takeout rice and noodle bowls, and the other is sit-down dining where you can experience the full menu of Indonesian deliciousness. The dinner menu includes many small dishes that are perfect for sharing with each other.
If you're a beer enthusiast, then Amsterdam is the place to be. This city has many authentic and historical breweries that are worth a visit. Check out this blog on the top 6 breweries in Amsterdam to go to while you're in the city.
Where to stay in Amsterdam

After a long road trip, you'll be ready to rest your eyes. Do it the Amsterdam way in a traditional houseboat! These floating dwellings are located all over the city's canals. Airbnb offers a variety of Amsterdam houseboats to stay in. There are places available for any budget in each neighborhood of the city. It's a great way to experience the city like a local!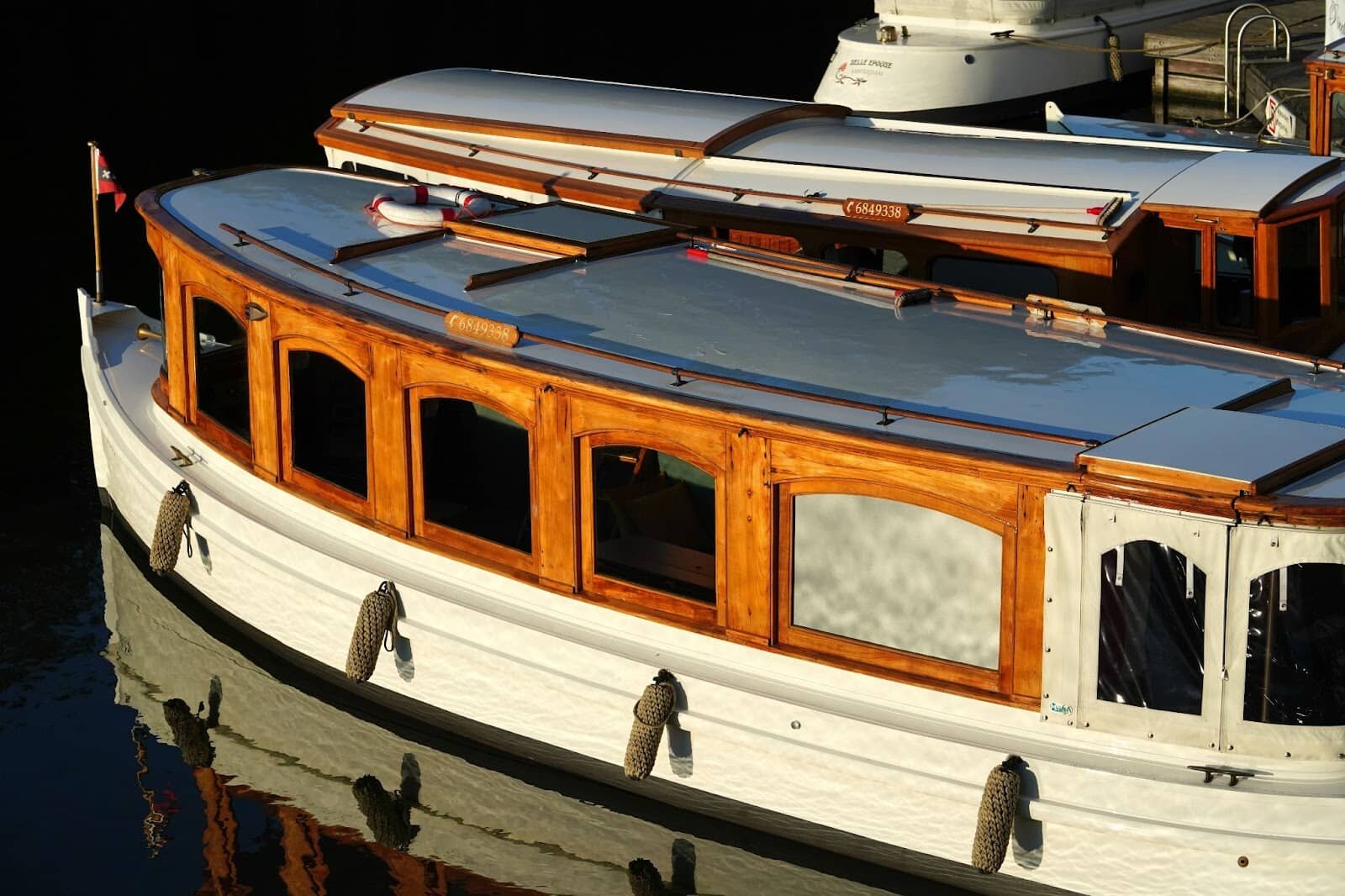 This brings us to the end of the road trip! This journey included seven cities in two beautiful countries, Germany and The Netherlands, and highlighted several sights and activities in each. From this guide, you hopefully can make the most of each place you visit.


But why stop there? There is so much yet to discover in Europe, so get in the car and go! Want to continue from Amsterdam? Here is another road trip guide from Amsterdam to Marseille