Your next Europe Road Trip: Amsterdam to Marseille
08-06-2018
During the long, warm days, how do you plan on spending the summer?
Vacation rentals, cheap flights, holiday guides, city visits, hotels, local tips...there is lots to consider when planning your summer trip. Driving from Amsterdam to Paris is a common summer Europe road trip to take. However, why not travel even further down south to Marseille, France by car? This road trip guide will show you all the best overnight stays, places to eat, and things to do while driving from Amsterdam to Marseille!
Before setting off for your Europe road trip from Amsterdam to Marseille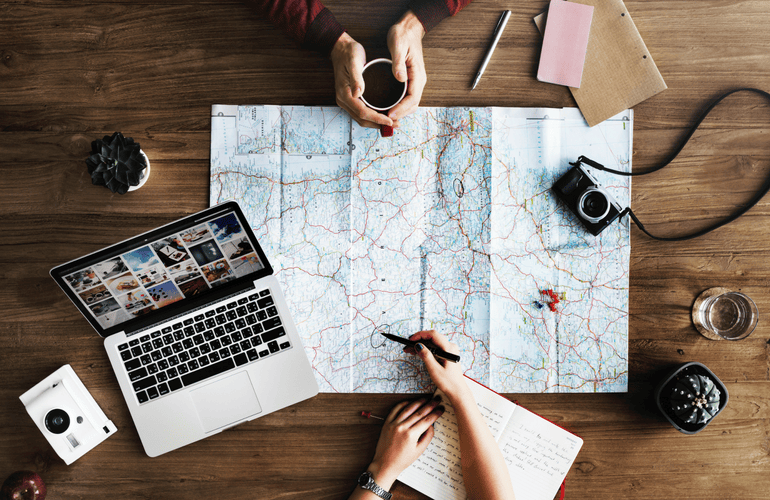 Rent a Car in Amsterdam with Green Motion
Renting a car for any Europe road trip is simple with Green Motion. Use the promotion code 'MOBYPARK' to receive a discount of 15% on you Green Motion car rental, collectable from Amsterdam Schiphol airport.

Car insurance
It is always wise to get car insurance when travelling, as accidents can always happen. You can compare and calculate car insurance using Pricewise to ensure you get the best deal for your car or car rental. Keep in mind that your car insurance should be valid in the Netherlands, Belgium and France for this particular Europe road trip.
Cheapest gas stops along the way
You can get a significant discount on gas while driving from Amsterdam to Belgium by signing up with ANWB.
Day 1 of your Europe Road trip: Amsterdam
Amsterdam, Holland is a great starting point for any Europe road trip. The Dutch capital is famous for its picturesque canals, cycling culture, classic architecture and world-renowned artists. There are plenty of things to do in Amsterdam, so you can stay as little or as long as you like before setting off.

Where to park in Amsterdam
The city council has plans to raise the price of Amsterdam street parking to 7.50 euro per hour! Thankfully, there is a much cheaper option of parking in a private parking rental instead, which means parking in Amsterdam centre can still remain affordable.
A good beginning: Brunch in Amsterdam
Amsterdam's brunch scene is highly competitive. Whether you want to find the best English breakfast in Amsterdam or classic Dutch pancakes, there are plenty listicles of where to eat brunch in Amsterdam if you simply google 'Brunch in Amsterdam'. Awesome Amsterdam has 40+ brunch recommendations which they have even organised by each Amsterdam neighbourhood.
Mobypark recommendation? We asked Remco, an owner of a private parking rental in Slotervaart, Amsterdam what his local recommendation was:
"Corner bakery opposite the World Fashion Centre and Drovers Dog at the Hoofddorpplein are the best for breakfast or brunch!"
Image source: Story154
Next stop: Driving from Amsterdam to Antwerp
Take the A27 highway from Amsterdam, heading south. The journey from Amsterdam to Antwerp by car takes approximately 2-3 hours.
Where to park in Antwerp
The city of Antwerp has pledged to make its centre a Low Emission Zone (LEZ). This means that not all cars can enter the city centre because some are more harmful to the environment than others. Make sure you check the criteria for entering the Antwerp Low Emission Zone to see if you can park centrally or not.
What to do in Antwerp
If you are only spending a couple of hours in Antwerp, it's best to make the most of it! Visiting the MAS Museum in Antwerp is something the whole family can enjoy. If you are more into city wandering, then simply taking a stroll through Antwerp's beautiful city centre is highly recommended too!
Lunch: Where to eat in Antwerp
Travelling always works up an appetite and there are plenty of great places to eat in Antwerp to satisfy it! Restaurant Gollem serves delicious burgers served alongside craft beers from all over the world, including Belgian beers. With 350 craft beers to choose from, Gollem is a top choice for craft beer fans visiting Antwerp.
If your taste is oriented toward more sophisticated fine dining options, then Brasserie Flo Antwerp of Hilton Hotel Old Town Antwerp is recommended. The menu is French-Belgian and contains mostly seafood dishes. As stated on the website, Flo is "truly a place where the sea is brought to the table".
Next stop: Driving from Antwerp to Ghent
From Antwerp, it is a short 1 hour drive to Ghent, a city world-renowned for its beauty and old, classic architecture, bridges and canals. Take the E17 highway in a south-west direction.
Where to stay in Ghent
Upon arriving in Ghent, it is best to go immediately to your Ghent accommodation in order to check in and drop off your belongings before exploring the city. Be sure to check for Ghent hotels and short-stay rental apartments which have parking possibilities, such as a Ghent Airbnb with parking.
On the banks of the Leie River is the stylish and modern Europa hotel. The hotel has free parking for guests, an accessible location and reasonable rates.
What to do in Ghent
If you are planning on staying in Ghent for at least 2 days, then getting a Ghent CityCard is highly recommended. The 48 hour CityCard (costing 30 euros) gives you access to the most popular Ghent attractions, discounted use of public transport, a Ghent city map, and other useful benefits as a Ghent visitor.
As the history in Ghent is very rich, we would recommend visiting Gravensteen, a stunning example of a Belgian castle from the Middle ages.
Where to eat in Ghent
Located on the beautiful and historic Korenmarkt in Ghent, the restaurant Du Progres is a great central option for dinner. This family-owned restaurant dates back several generations and serves authentic Belgian dishes, such as Flemish stew. With it's warm, old fashioned interior, this Ghent restaurant has an atmosphere of top-tier quality and timelessness. With a rating of 4.5/5 stars from approximately 1600 reviews on Tripadvisor, you can be assured that Du Progres is certainly one of the best restaurants in Ghent.
For more places to eat in Ghent, visit the Little Wanderbook blog.
Next stop: Driving from Ghent to Lille
Once you are feeling refreshed from your overnight stay in Ghent, the next leg of the journey will bring you over the Belgian-French border to Lille. Called 'the most underrated city of France' by both Lonely Planet and The Local, Lille is a city to be explored and appreciated.
It will only take 1-2 hours to get from Ghent to Lille by car, so there is no need to rush. Take the E17 highway in a southwestern direction.
Where to park in Lille
Lille street parking starts from €1,30 - € 1,60 per hour, depending on where you park. We advise you to park outside of the city centre and to take the subway or the shuttle into the city.
You can also book your parking space ahead of time. You can park more centrally at the Lille Opera parking, for example, or with a Lille valet parking service.
Where to eat: Breakfast in Lille
Tamper Espresso Bar is one of the best places to grab a cup of coffee and a sweet but sturdy breakfast. Its warm, modern atmosphere will make you feel right at home!
Image source: Tamper Espresso Bar
An option for brunch in Lille is Chez Léontine, a charming French tea house with all things sweet and savoury to suit all taste buds! The Lille locals absolutely love Chez Léontine, and with good reason. This restaurant is unique, perfectly located in Lille, and authentically French!
What to do in Lille
The Grand Palace of Lille is a magnificent piece of architecture and a must-do in Lille. Inside the palace area, a second-hand book market can also be found.
La Piscine Museum of Art and Industry is a site steeped in social and political significance. The name, La Piscine, is based on the museum's construction on the former site of an Art Deco swimming pool commissioned by a Mayor of Lille in the late 1920s.
If you happen to be in Lille in early September, try to visit the Braderie de Lille flea market. This is one of the biggest flea markets in the world and, according to Flea Market Insiders, Braderie de Lille expects no less than 2 million visitors over the course of its 2 days in 2018.
Image source: Flea Market Insiders
Where to stay in Lille
If you decide you want to make Lille more than just a road trip stopover and spend the night, then we would recommend Kanai Hotel. The hotel has a very modern feel with great ratings and reasonably priced parking for your car.
Next stop: Driving from Lille to Paris
The next stop in this Europe road trip is Paris, the city of love! As one of Europe's most visited capitals, it may be worth spending more time here.
Take the A1 in a southerly direction for the quickest route of 2-3 hours. This route also takes you through the middle of the stunning Regional Natural Park Oise Pays de France. The park spans 60,000 hectares and is home to quaint villages, old, elegant castles and a dazzling array of fauna and flora. It is a sanctuary for protected species in France.
If you want to avoid the tolls, take the A16 or N2 from Lille (slightly longer).
Where to park in Paris
Parking in Paris can be a nightmare, especially when trying to find cheap parking in Paris. However, private parking rentals provide a great solution. You can reserve your cheap Paris parking in advance and even get some local tips from the parking renters!

Where to stay in Paris
The sheer number of hotels in Paris to choose from can be rather overwhelming. Opting for an Airbnb in Paris can be easier as you are able to speak with the apartment renter beforehand. Try find an Airbnb in Paris with parking to avoid costly street parking fees.

The Holiday Inn Express Paris is a trusted brand by its customers and it also has parking availability. It is easily accessible by public transport and within walking distance of many restaurants, cafes, green spaces and attractions, such as the park La Villette.
What to do in Paris
Most of the main attractions in Paris like the Eiffel tower, the Champs Elysees and the Louvre are all within walking distance of each other and are very popular with Paris visitors. There are several summer festivals in Paris which have a more laid-back atmosphere, such as the Paris Plages. These events are a perfect way to escape the touristic chaos of the regular Paris attractions.
Local Parisian and private parking rental owner, Elisa, knows Paris very well. We asked her what her favourite thing to to in Paris is:
"Take a walk along the Seine to the Jardin des Tuileries."
Given the park's central location, serenity, and beauty, many people would agree with her!
Where to eat in Paris
With hundreds of restaurants in Paris to choose from, how can you easily narrow down the choice? We have found these 7 hot spots in Paris to grab a bite, each with their own unique twist. For example, The Broken Arm on Rue Perrée is a cafe-come-boutique!
What's the Paris local restaurant recommendation? Elisa swears by dinner at Les Cocottes, a beautiful restaurant centrally located with a fantastic assortment of fine foods.
Next stop: Driving from Paris to Lyon
Dating all the way back to the Roman era and with several precious world heritage sites, Lyon has a rich and vibrant history. We take a step back in time for the next leg of this Europe road trip!
The drive between Paris and Lyon takes between 4-5 hours (depending on traffic). Take the A6 in a South-East direction.
Where to stay in Lyon
Hotel Alexandra is a good Lyon hotel option as it is centrally located, is suitable for the whole family and has a private parking space. It has a rather laid-back atmosphere and a refreshingly modern interior design, unafraid to play with bright, bold colours. Check out the Alexandra hotel offers to see if any of them suit you for your stay in Lyon.
You can park your car with a Lyon valet service if you are planning on continuing your journey by train.

What to do in Lyon
Walk along the Rhone and Saone rivers to soak up the magical Lyon atmosphere early in the morning or as the sun is setting. Visiting the Vieux Lyon is a must-do in Lyon, a world heritage site and one of the largest renaissance sites in Europe. Around every corner there is something beautiful to behold and plenty of photo opportunities.

The top Lyon destinations include the Rue Saint Jean, a well-known neighbourhood with shops, restaurants and bars, the Basilica Notre-Dame de Fourvière and the Parc de la Tête d'Or, a gorgeous, tranquil Lyon park featuring a zoo, traditional carrousels, a lake and lots of fun activities for the whole family.
Where to eat in Lyon
Le Cintra is a restaurant known for its great cocktails, romantic atmosphere and live piano bar, creating a truly unique dining experience. Eating on the restaurant terrace on a sunny Lyon day is the perfect way to end off your stay in this beautiful city.
For local Lyon food specialties, we recommend Bouchon les Lyonnais.
Next stop: Driving from Lyon to Marseille
Take the A7 in a southerly direction for the last leg of your Europe road trip from Amsterdam to Marseille. The drive down from Lyon to Marseille should take between 2.5-3.5 hours. Wind down your windows as you get closer and closer to the ocean air!
Where to park in Marseille
Park your car securely in a private hotel parking space for a discounted price, such as at the Ibis Marseille parking or the Kyriad Rabatau Marseille parking.
If you'd like to catch the train, there is a Gare Marseilles Saint Charles valet service available and, if you'd like the local touch, there are several Marseille private parking rentals available to host your car.
Where to stay in Marseille
Opt for a Marseille AirBnb with parking. If you are lucky enough to be greeted by the apartment rental owner upon arrival, you may even get some extra local tips about what to see and do in Marseille.
The Hotel La Residence du Vieux-port offers stunning views of the port and is a perfect beach holiday hotel. For pure luxury and esteemed quality, the Marseille Radisson Blu is the best option.
Source Image: Hotel La Residence du Vieux-port

What to do in Marseille
Marseille is famous for its beautiful beaches and Calanques de Marseille, but there is more to the city than its jeweled waters and stunning nature walks.
Shopping in Marseille is best done in malls such as Les terrasses du port, featuring many stores, restaurants, bars, activities and different events. It is also a nice way to escape the heat in the height of the Marseille Summer.
Get into the spirit of Marseille by attending a football match at the Velodrome, an impressive sporting architectural feat. Visit Sport beach for a beachy Marseille nightlife experience, dancing the night away with your toes in the sand and a fresh cocktail in your hand.
Where to eat in Marseille
The local restaurant recommendation is Chez Aldo. It is home to some of the best bouillabaisse in Marseille, and is situated in amongst the stunning les calanques des goudes. Be sure to make a reservation.
For more Europe road trip planning, check out the Roadtrippers. Enjoy the summer!