7 Green Hotels in the Netherlands to Inspire Sustainable Hotel Management
10-01-2022
In recent years, there has been a huge shift within the hotel industry towards sustainability. The impact on the environment is now a focal point for many hotels, and owners and managers are changing their business operations to function in a greener way. Awards such as the Green Key, the BREEAM certificate, or the GreenLeaders on TripAdvisor, are evidence of this, as they strive to recognize and encourage more sustainability within the industry.
Many hotels are making great strides to become more sustainable. In The Netherlands, there are many inspiring hotels that have taken this eco-mission seriously through innovative and creative sustainable practices and designs. This blog compiles information about some Dutch eco-hotels to offer ideas about practical sustainable solutions that can be incorporated into your hotel.
1. Hotel Jakarta, Amsterdam - A green oasis

Hotel Jakarta, located on the Java-Eiland in the east of Amsterdam, is truly a "sustainable green oasis". It has received the BREEAM certificate of excellence for its sustainable efforts. BREEAM NL stands for Building Research Establishment Environmental Assessment Method and is the premium mark in the Netherlands for judging the sustainability performance of new construction projects and renovations. The Hotel Jakarta received a score of 71.81 per cent for its efforts in sustainable design.
This hotel is green to its core, literally. Rather than using the traditional concrete, Hotel Jakarta replaced as much as they could with natural wood and large glass facades. All wood materials are certified by the Forest Stewardship Council (FSC) and have the quality mark from the Programme for the Endorsement of Forest Certification (PEFC). And for almost all other materials used in the hotel, the Hotel Jakarta has ensured that they are recyclable.
Besides this, Hotel Jakarta is completely energy neutral. Their energy performance coefficient (EPC) is equal to 0. They achieve this in several ways. Solar panels are used to convert sunlight into electricity to heat shower water. The glass facades also have triple glazing to better insulate the building so heat does not escape. Rainwater is collected for the purpose of watering and spraying the indoor tropical garden.
Additionally, a heat and cold storage system is used to heat and cool the hotel. This is a sustainable method of storing energy in the form of heat or cold in the ground that can lead to considerable energy saving and lower CO2 emissions.
An extra bonus is that all staff of Hotel Jakarta wear sustainably made garments as their uniforms. As the fashion industry is one of the largest polluters, switching to eco-friendly clothing for staff is a great way to be more green.
What to learn from Hotel Jakarta
Hotel Jakarta has much to offer in terms of inspiration for hotels seeking to be more sustainable. If your hotel is seeking to build an extension, then take ideas from this hotel on using eco-friendly materials for the design. Additionally, adding a heat and cold storage system is a great way to conserve energy. If you're looking for something more practical, then sustainable garments for your staff is a simple yet effective idea.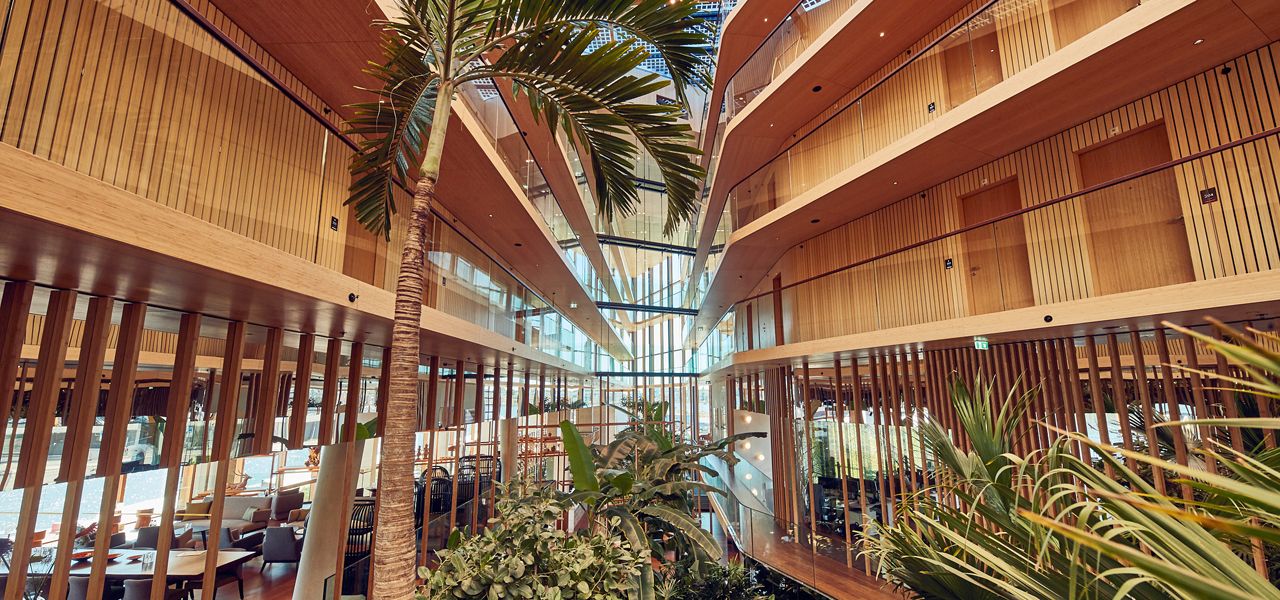 Source image: Hotel Jakarta


2. Court Garden Hotel, The Hague - The most sustainable hotel in The Hague
In the beautiful neighbourhood of Zeeheldenkwartier in The Hague, you can find the Court Garden Hotel, the first eco-designated hotel in the Netherlands. It is the most sustainable hotel in The Hague, and has received numerous awards and certifications for its green operations, such as the Court Garden Hotel has received the Green Declaration from the Ministry of Environment, the Energy Label A +, and the Green Key Gold label.
The Court Garden implements many sustainable practices and uses entirely green energy. For example, they use energy-saving lamps and sensor lighting throughout the hotel. They also use Energy Label A appliances and LED televisions in all the guest rooms. Additionally, the hotel has roof insulation and triple glazed windows to prevent heat loss. By using green energy the hotel has experienced a 56.3 % reduction in carbon footprint, a 52.3 % reduction of gas usage, and a 57.9 % reduction in electricity usage.
Besides this, the Court Garden uses water-saving showers, toilets, and sinks to prevent excess water use. Additionally, they work with 100% organic and fair-trade food products and have received a 100% EKO-trade certificate as a result.


What to learn from the Court Garden Hotel
The Court Garden offers many simple, sustainable changes that can be implemented in hotels, such as switching to sensor lighting and Energy Label A appliances. Additionally, adding water-saving features in guest rooms is a great way to conserve water.
Source image: Court Garden Hotel
3. Andaz Amsterdam Prinsengracht, Amsterdam - A sustainable concept by Hyatt
The Andaz hotel is located in the heart of Amsterdam. They are part of the Hyatt corporation, which adheres to a variety of green practices. For example, they strive to reduce waste by prohibiting single-use plastic products as well as composting food waste. All products are responsibly sourced to address concerns for climate change, deforestation, and public health, among others.
Andaz prioritizes a sustainable experience for their guests. They give the option to reuse towels and to opt-out of daily room cleaning in order to conserve water. In the restaurant, straws are only offered upon request and are made from paper instead of plastic. Additionally, the hotel uses a digital key entrance solution to reduce the need for plastic key cards.
Besides this, Andaz also works with Mobypark, where they maximize the potential of their unused space by renting out their parking to drivers who are not guests of the hotel. By doing this, they help to improve city traffic and prevent unnecessary CO2 emissions, as these drivers do not have to drive aimlessly to search for available parking. Learn more about renting out your hotel's parking.
What to learn from the Andaz Amsterdam
The Andaz Amsterdam hotel teaches that sustainability can be achieved in a variety of ways. It does not always have to be obvious solutions, like saving water or electricity. Instead, it can be contributing to the city at large, by helping get cars off the streets quicker by offering to park, therefore cutting down on unnecessary CO2 emissions.
Source image: Andaz Amsterdam Prinsengracht
4. Suite Hotel Pincoffs, Rotterdam - A sustainable boutique hotel
Suite Hotel Pincoffs is located in a monumental building along the Nieuwe Maas river in Rotterdam. It is awarded the Golden Green Key as well as the Gold GreenLeader badge from TripAdvisor for its sustainable efforts.
Some of these eco-conscious methods include planting an urban garden next to the hotel to create more green space along the river. Vegetables are grown in this garden that is used in the hotel's menu. Suite Hotel Pincoffs also actively strives to purchase sustainable products and materials for their hotel, as well as only serving biological meats, dairy, and bread. The tea and coffee are also organic and SKAL certified.
Besides this, they participate in many environmental foundations, such as the Clean the World project, in which toiletry products are collected for reuse in countries where hygiene is still lacking. They have also planted thousands of trees in Panama in an effort to offset their own CO2 emissions through the Hotels for Trees Foundation. Additionally, Suite Hotel Pincoffs participates in the Dopper Wave, a program that strives to end the use of single-use plastic bottles. The hotel has been free of plastic bottles since 2020.
What to learn from the Suite Hotel Pincoffs
The Suite Hotel Pincoffs shows that there are many environmental programs available for hotels to participate in that encourage environmental awareness and take great strides to help the planet. They also make out-of-reach goals more feasible, such as planting thousands of trees to offset CO2 emissions.
Source image: Suit Hotel Pincoffs
5. Hampshire Boshotel, Overberg - Sustainable 4-star hotel
Located in the Utrechtse Heuvelrug National Park, the Hampshire Boshotel is all about nature and the environment. It is the first sustainable 4-star hotel in The Netherlands and has also been awarded the Golden Green Key.
This hotel used only natural and sustainable materials in its design. To begin, all of the wood used has a quality mark. The ceilings of the rooms are made with recycled paper and the roofs are constructed using moss and sedum. Additionally, the entire kitchen floor is made from recycled plastic and all guest rooms have rubber floors. These materials are either all-natural, or are sustainably produced and are long-lasting, making them excellent green material options.
The Hampshire Boshotel building has underfloor heating. This is a better alternative than traditional heating systems as it lowers the carbon emissions of the building and is 15-20% more effective. Moreover, the incorporation of sun protection design within the hotel building has eliminated the need for air conditioning.
Besides all this, the Hampshire Boshotel uses local food products and organic meat. They also advocate and encourage their guests to enjoy the surrounding nature by cycling, canoeing, and hiking.
What to learn from the Hampshire Boshotel
One of the many things Hampshire Boshotel does well is to encourage their guests to explore the surroundings sustainably by cycling, hiking, etc. This can be similarly done for hotels located in an urban environment as well. City hotels can encourage guests to explore with bikes (better yet, hotels can offer bikes to rent), providing walking maps, or detailed public transportation guides. This encourages guests to travel in a greener way during their stay.

Source image: Hampshire Boshotel
6. Boat & Co, Amsterdam - Eco-friendly to its core
Boat & Co is an apartment hotel located in the Houthaven neighbourhood of Amsterdam. This neighbourhood, a previously industrial area of the city, is now the first 100% climate-neutral neighbourhood of Amsterdam.
The Boat & Co hotel was built using Cradle to Cradle principles. This method of design goes beyond using recyclable materials and instead models nature's processes, where materials are viewed as regenerative. This is a circular way of viewing construction, design, and materials to be used as multi-purpose and eternally-lasting.
All materials used in this hotel are sustainable and produce zero waste. For example, the hotel building uses a thermal energy storage system for eco-friendly heating and cooling. They use water-saving showerheads, toilets, taps, and faucets and eco-friendly products for cleaning. Even their fire extinguishers are sustainable! Moreover, the roof is covered in solar panels, and the building is home to many nesting boxes for city birds to use.


What to learn from Boat & Co
Boat & Co inspires hotel managers and decision-makers through its use of the Cradle to Cradle principles. This method helps Boat & Co to be more eco-aware in all of its activities, from design and materials to daily activities. By having a clear vision and framework to follow as a guideline for hotel operations, hotel managers can more effectively implement sustainability within their hotels.
Source image: Boat & Co


7. BUNK Hotel - Sustainable Hotel in Utrecht
This hotel, located in Utrecht, took the old Westerkerk church building and converted it into BUNK, a sustainable hotel initiative in the city centre. BUNK offers both hotel rooms and "bunk pods", where guests can sleep in private bunks as a cheaper alternative.
This creative hotel holds a Green Key title for sustainability. They maintain this status by making their operations as sustainable as possible and striving to reduce their carbon footprint. Some examples of this include only using organic bed sheets and eco-friendly body care products in their guest rooms. They also use organic and locally-sourced food and beverage products. Moreover, BUNK participates in a comprehensive waste management program and partners with INSTOCK to reduce its food waste. This hotel also ensures that its supply chain is free from corruption, exploitation, and child abuse.
They also participate in several social programs. One of them is their commitment to stand up for vulnerable groups in the labour market. They help those in unfortunate situations or with mental or social issues that need work by offering them jobs in the hotel.


What to learn from BUNK Hotel
BUNK Hotel is inspiring because of the different programs and partners they work with to be more sustainable. Additionally, this hotel ensures that it has a holistic approach to being more sustainable. Not only do they use eco-friendly food and materials, but they ensure that their entire supply chain is ethical, sustainable, and corruption-free. This hotel goes even further to include a social development program where they advocate for vulnerable groups in the labour market. Many might forget that social development is an important part of sustainability, as outlined by the UN in their Sustainable Development Goals.
Source image: BUNK hotel

These are just seven examples of green hotels in The Netherlands that are actively participating in the sustainable revolution within the hotel industry. Many more in The Netherlands and around Europe are incorporating greener business practices to ensure a better future for all. Take inspiration from these hotels to incorporate into the sustainability plan for your hotel, and be a part of the green transformation within the hotel industry.

Looking for more ideas? Read this blog about nine practical and simple sustainable ideas to incorporate into your hotel to be more eco-conscious. Or start renting out your hotel's parking to optimise space in your city and reduce CO2 emissions.
Liked this blog? Please share it with your friends and colleagues by clicking one of the buttons below.