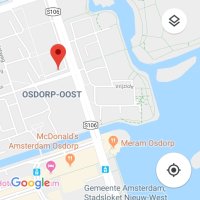 B
Responds within 2 hours
Member since Apr '19
As a born and raised citizen from Amsterdam, i know this city very well and am happy to answer you're questions and give you free info and tips about the many beautifull places and sightseeing locations in Amsterdam. Feel free to contact me any time for questions. Hope to see you soon in Amsterdam.
13 Reviews
Marcin
Thank to Mr Badr for being awesome person and being very helpful. What to say more its worth it, but to belive it is to try it your self
20-06-2022
Morestin
Ultra secure parking, suitable for all types of vehicles (we have a 4x4). B is a very accommodating and friendly person. He does everything to accommodate travelers. It is very appreciable
02-11-2021
Evan
Very nice and helpful landlord.
The garage is perfect and safe as you can only enter and exit with remote control.
When accessing the car, the landlord must be contacted, who will then open the gate.
With the tram in about 35 minutes in the city.
We thank you for the friendly welcome and help and say a big thank you !!
We will be back:-)
02-11-2021
Lotte Aimée
Super parking place, easily reachable from the center of Amsterdam.
Bahr is very friendly and nice to communicate with!! Highly recommend!!
20-07-2021
Lorene
Snel en vlot contact met de eigenaar. Hele fijne parkeerplek, nette garage, makkelijk te vinden.
De eigenaar is heel vriendelijk en makkelijk te bereiken!
Let op dat je de gegevens baan de eigenaar onder de reservering opzoekt en opslaat, want via de chat functie worden telnr en emailadressen aangepast vanwege privacy gevoelige informatie ;-)
22-02-2021
Julie
Super easy to locate and to pick up the keys! Owners were also very friendly and helpful. Recommend 100% !
30-06-2020
Grace
Badr's parking was a 20 tram from the city but was very secure and easily accessible. Far better than street parking. Badr was super helpful and friendly. Would definitely recommend!
19-12-2019
Tiago
B. was very kind and helpful. The parking itself is well situated, easily accessible and secure.
26-11-2019
Corinna
Really good communication, easy to find, perfect connection to the town centre, good information about the parking space, dry and clean garage. Always again and absolutly recommendable!
08-10-2019
Malte
Very friendly host and perfect parking lot!
Secured, clean and big.
I would recommend it!
14-07-2019
Uwe
Safe place near to tram station. Owner was very friendly, flexible and great in communication. All worked the way it should. I warmly recommend.
09-07-2019
kensi
Grâce à cette place de parking, très bien située et sécurisée nous avons pu laisser notre voiture sans nous soucier d'éventuels problèmes. Un parking en plein Amsterdam coûte assez cher, alors que chez B Moudou le prix est très correct. De plus il se trouve qu'il est très serviable et disponible pour d'éventuels renseignements. Nous avons le badge avec nous pour le portail, donc nous pouvons accéder au parking quand nous le souhaitons.

Thanks to This parking place, which is very well located and safe, our weekend in Amsterdam was very pleasant and we had no worries finding a place to leave our car. The price is very friendly and way better than those of regular parkings which are often expensive. You can reach B Moudou very easily and he will give you every information you need about the city. You get to keep the Badge of the parking with you, so you can have access to your car whenever you need to.

Dankzij deze parking plaats, die zeer goed gelokaliseerd en veilig is, hebben we een prettige weekend gehad in Amsterdam, zonder hoeven te zorgen voor een nieuwe plek elke keer dat we de auto namen. Het is moeilijk één parking te vinden die niet duur is in Amsterdam maar de prijs was heel correct en redelijk hier. B Moudou is heel vriendelijk en geeft graag advies als we vragen hebben. We hadden de toegansbadge met ons dus je kunt de parking in en uit gaan wanneer je wilt.
12-06-2019
Philipp
Everything works fine!
27-04-2019